Traditional Irish Coddle is a comforting and hearty combination of sausage, bacon, potatoes, and onions. It's also known as Dublin sausage and potato stew. It's great for St. Patrick's Day.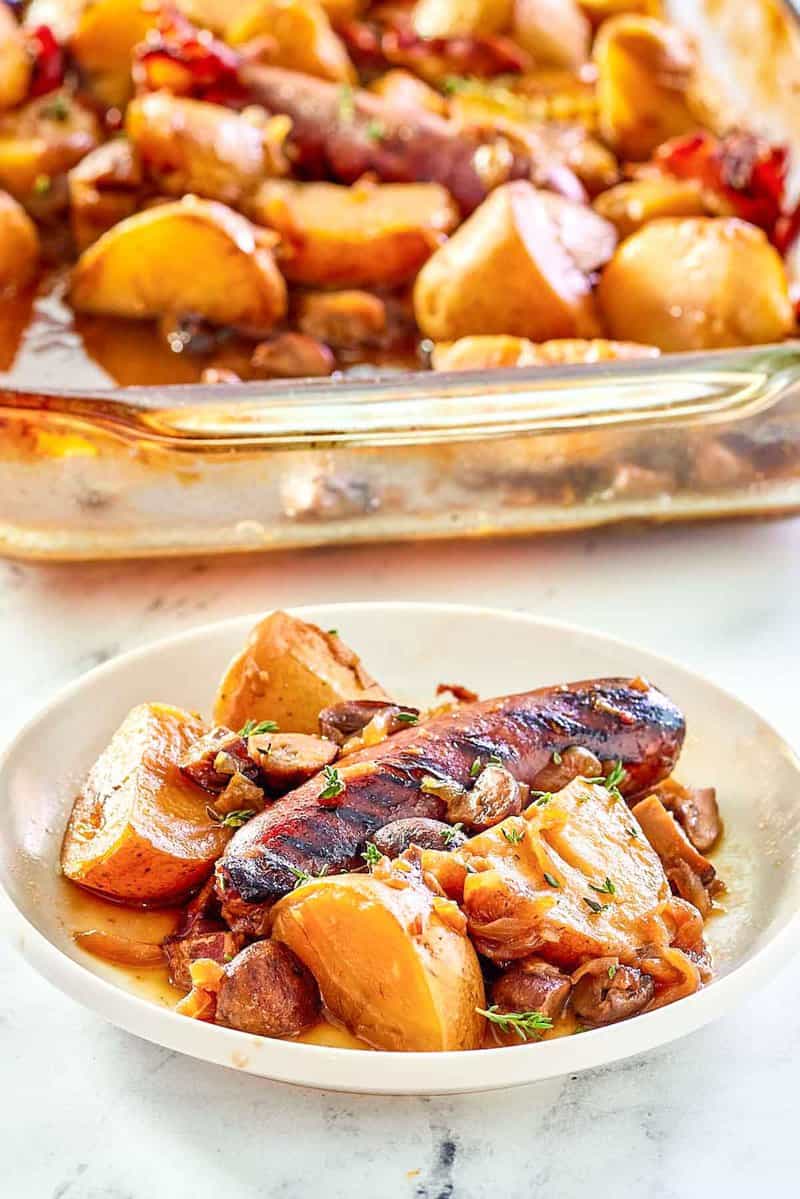 This post contains affiliate links. As an Amazon Associate, I earn from qualifying purchases.
Why Irish Coddle Is the Perfect Comforting and Hearty Stew to Serve on a Cold Winter Day?
Traditional Irish Coddle is a hearty meal chockful of meat and vegetables in a seasoned broth. It is the kind of dish you can throw together after lunch and keep slowly simmering on the back burner until dinner time.
The smell alone is enough to bring a smile to anyone's face, and the taste, well, that is truly special. If you have never had an authentic Irish Coddle before, you owe it to yourself and your family to try this dish the next time the weather turns chilly.
Why Should You Try This Irish Coddle Stew?
Irish Coddle is ordinarily one of those "anything goes" dishes perfect for using up a little of this and a little of that. But this Irish Coddle recipe is much more extravagant.
Sure, the recipe starts with the same bacon, sausage, onions, and potatoes you'll find in any other Irish Coddle, but then it adds roasted garlic, beef broth, and even Guinness!
The result is a stew with an incredibly flavorful liquid much thicker and richer than the typically thin Irish Coddle soups of the past.
What Is the Origin of Irish Coddle Soup?
Irish Coddle, often called Dublin Coddle in Ireland, is a dish that goes back at least as far as the 1700s. It was the urban equivalent of the classic Irish Stew without the more costly mutton that wouldn't be available to most housewives in the city.
It was common to make an Irish Coddle as Thursday night dinner to use up any leftover bacon and sausages before Friday because Catholics abstained from eating meat on Friday.
Coddling is an old cooking term that means to cook gently just below boiling — think of Coddled Eggs as an example of this cooking method. It was the perfect way to prepare food when homes were heated by turf or coal.
Irish Coddle Ingredients
To make Irish Coddle, you'll need:
Bacon
Pork sausages
Roasted garlic
Onions
Potatoes
Cremini mushrooms
Beef broth
Guinness Stout
Fresh thyme
Salt
Freshly ground black pepper
Unsalted butter
Ingredient Notes
Irish bacon is not the same as the bacon they sell in the US. Canadian bacon and pancetta are both okay substitutes for Irish bacon, but you can also use American bacon.
If you can get Irish sausages, use them. If not, choose any all-pork sausages that are not heavily seasoned.
To roast the garlic, chop a half-inch from the top of the garlic bulb, drizzle olive oil over it, and wrap it in aluminum foil. Bake the garlic at 400°F for an hour. Squeeze the cloves of garlic out of the bulb while still warm.
Potatoes in Ireland are starchy, like a Russet potatoes, but you can use a less starchy potato, like Yukon Gold, if you prefer. Red potatoes, which are very waxy potatoes, are probably not the best choice for this recipe.
You don't have to use Guinness; any stout will do. You can also leave it out and replace the beer with more beef broth or water.
How to Make Irish Coddle
To prep the ingredients for this Dublin coddle recipe:
Place a pot of water over high heat.
Scrub the potatoes and cut them into large chunks.
When the water is boiling, blanch the potatoes until they are fork-tender.
While the potatoes are blanching, cut the onions into half-inch slices. Clean the mushrooms and cut them in half.
Strain the blanched potatoes and place them back in the pot along with the onions and mushrooms.
To cook the Irish Coddle Stew:
Place a skillet or grill pan on the stove over medium-high heat.
Cut the bacon into one-inch pieces. If the sausages are on the small side, keep them whole. Otherwise, cut them in half the long way.
Cook the bacon and sausages in the skillet.
Transfer the cooked bacon, sausages, and grease from the meat into an oven-safe pot, Dutch oven, or casserole dish.
Add the blanched potatoes, roasted garlic, mushrooms, and sliced onions.
Add the beef broth and Guinness. If using a pot, be sure to scrape the bits off the bottom of the pot.
Stir well and cover with a lid or a layer of foil. Transfer the pot to the preheated oven and cook for one hour.
Remove the pot from the oven and stir in the fresh thyme, salt, black ground pepper, and unsalted butter.
Serve immediately. Garnish with fresh chopped parsley if desired.
What to Serve With It
A slice of crusty bread spread with a thick layer of good Irish butter and a glass of beer would go great with this dish.
How to Store the Leftovers
You can keep extra Irish Coddle in the refrigerator for up to three days. It is a good idea to pour off any liquid and keep it in a separate airtight container, or the potatoes will soak everything up overnight.
Traditional Irish Coddle does not freeze well.
What's the Best Way to Reheat Irish Coddle?
You can easily reheat the dish on the stovetop:
Combine the liquid and the other ingredients in a medium saucepan. If the stew looks a little dry, add some more beef stock.
Cook the Irish Coddle on low until all the ingredients are warm, about 15 to 20 minutes. Stir often.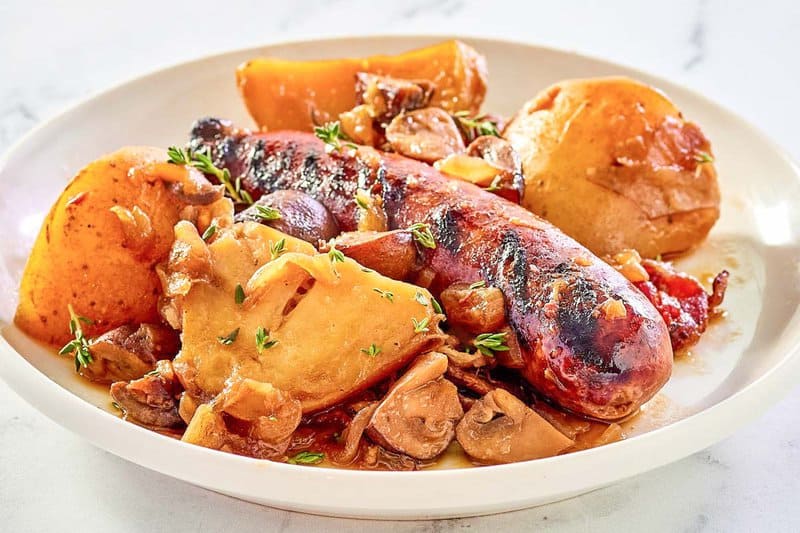 Favorite Irish and St. Patrick's Day Recipes
Popular Hearty Soup and Stew Recipes
Check out more of my easy soup and stew recipes and the best comfort food recipes on CopyKat!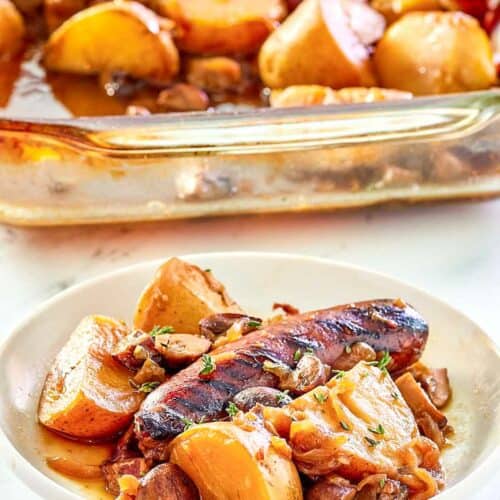 Ingredients
2

pounds

Yukon Gold potatoes

quartered

8

thick slices

hickory-smoked bacon

1

pound

pork sausages

2

cloves

garlic

roasted

2

large

onions

julienned

1

pound

cremini mushrooms

1 1/2

cups

beef broth

12

ounces

Guinness Stout

2

tablespoons

fresh thyme

1/2

teaspoon

salt

1/4

teaspoon

black pepper

2

tablespoons

unsalted butter

Irish soda bread

to serve (optional)
Instructions
Blanch the potatoes until just tender.

Grill the slab bacon and pork sausages until the bacon is crispy and the sausages are cooked through (this can also be done in the oven).

Preheat the oven to 350°F.

In a small pan, sauté the garlic, onions, mushrooms, and blanched potatoes.

Place the bacon, sausages, and sautéed vegetables in a roasting pan or casserole dish. Add the broth and Guinness and bring to a simmer. Cover and bake for 1 hour.

Finish the dish with the thyme, salt, pepper, and butter and serve as a stew with Irish soda bread.
Nutrition
Calories:
303
kcal
|
Carbohydrates:
7
g
|
Protein:
12
g
|
Fat:
23
g
|
Saturated Fat:
8
g
|
Cholesterol:
57
mg
|
Sodium:
774
mg
|
Potassium:
505
mg
|
Fiber:
0
g
|
Sugar:
2
g
|
Vitamin A:
215
IU
|
Vitamin C:
5.4
mg
|
Calcium:
34
mg
|
Iron:
1.4
mg