Fried apples are a classic side dish that generations have enjoyed. But if you've ever tried to replicate the delicious flavors of Cracker Barrel's famous fried apples, you know it's not easy! Whether a novice or a pro, these tried-and-tested recipes are guaranteed to help you get that classic fried apple flavor you crave. Read on to learn the secrets behind perfect fried apples every time! You are going to love this Cracker Barrel apple recipe.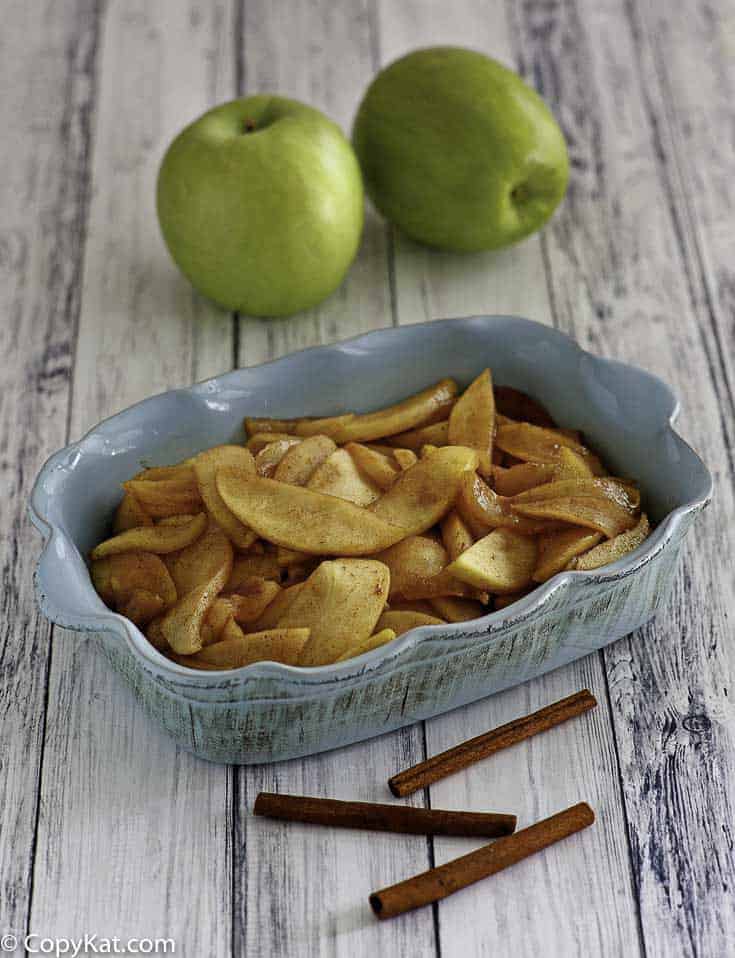 Delight your family with a delicious fried apple recipe from Cracker Barrel.
These skillet-fried apples are lovely when served with pork chops, but this becomes my easy apple dessert recipe when it is apple season. I know you will love serving this up just like the Cracker Barrel restaurants do, and when you make it at home, you can serve it up with a scoop of vanilla ice cream. This copycat Cracker Barrel recipe is an easy recipe. Who doesn't love a delicious treat from your favorite restaurant?
What makes this the best copycat Cracker Barrel restaurant recipe?
Hands down, this is one of my family's favorite apple recipes. These apples have the perfect blend of spices. Tender apple slices are perfectly cooked and wonderfully seasoned. These delicious fried apples can be served as a great side dish or as a dessert with a dollop of whipped cream. This is our go-to recipe for enjoying apples when it is apple season. 
Southern Fried Apples
If you have never had fried apples, you will want to try this classic Southern side dish immediately. If you enjoy the taste of apple pie filling, this will soon be one of your favorite ways to enjoy apples.
In the restaurant, they aren't made fresh, but you can make a copycat of their fried apples using fresh ingredients at home. These apples are delicious if you enjoy them as a side dish or a dessert.
Cracker Barrel Fried Apples Ingredients
Here's what you need to make fried apples:
Bacon drippings or butter
Golden delicious apples – or other tart apples
Lemon juice
Brown sugar
Salt
Ground cinnamon
Ground nutmeg
How to Make Fried Apples Cracker Barrel Style
Core, peel, and slice apples.
In a large skillet, melt bacon drippings or melt butter.
Spread sliced apple evenly over the skillet bottom.
Sprinkle the brown sugar and salt over the apple mixture.
Cover and cook over low heat for 15 minutes, and stir them occasionally. Cook until the apples are fork-tender and juicy.
Sprinkle with cinnamon and nutmeg, and serve.
You can add a squeeze of lemon at the finish for enhanced flavor.
Serve these with a slotted spoon.
To Peel or Not to Peel Apples
You can leave the peels on the apples or take them off, which is entirely up to you. I think you can deviate from the recipe a bit if you want to use different types of apples in the recipe. You can get a delicious flavor by using a couple of other apples.
Please note the video below features apples that are not peeled. You can peel the apples if you want them exactly like they are at Cracker Barrel Old Country Store restaurant.
What are the best apples to use for cooked apples?
Cracker Barrel uses the Golden Delicious type of apple, but many other apples have a better flavor when you cook them. I recommend different kinds of apples over golden delicious. Here are a few of my recommendations.
Granny Smith apples have a citrusy-tart flavor and are very firm, so they don't get mushy when cooked.
Jonagold apples have a sweet honey flavor that holds up well when baked.
Honeycrisp apples are sweet and tart with a hint of berry.
Pink lady apples are sweet, and tart apples, they are also slow to brown.
Want to get the best flavor imaginable? Make this recipe with a few different types of apples
How to Serve Fried Apples
My favorite thing about this recipe is this apple recipe can be served as either a delicious side dish during the main course or a dessert. If you make them as a side dish consider adding a little less sugar. If you want to serve them as a dessert, consider serving them with a scoop of vanilla ice cream.
How to Store and Reheat Leftover Fried Apples
You can store this fried apple recipe by simply placing the leftover apples in an airtight container. They will stay fresh in your refrigerator for up to five days.
Fried apples can be reheated in the microwave for 2 to 5 minutes on medium heat depending on the quantity you have to reheat.
A great way to enjoy these leftover apples is to heat them and add them to your morning oatmeal.
Can Cracker Barrel Fried Apples be frozen?
While you can freeze the leftover apples, I personally do enjoy the texture of frozen fried apples. Store them in an airtight container in the freezer for up to 3 months.
I hope you enjoy this recipe! Fried apples can be enjoyed as a side dish or even a dessert. There is nothing like Cracker Barrel Fried Apples in the fall! When you make them at home you can enjoy them even more.
Love Cracker Barrel? Check out these copycat recipes!
Here are a few more easy apple recipes your family will love!
Be sure to take a look at my all-time favorite fall recipes and the best Cracker Barrel copycat recipes.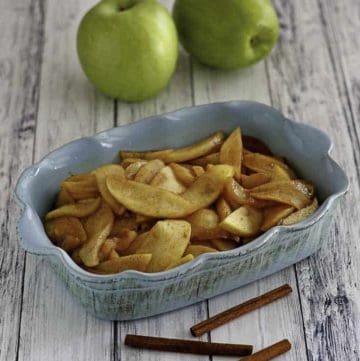 Ingredients
1/4

cup

bacon drippings, or 4 tablespoons (1/2 stick) butter

6

tart apples

peeled, cored, and sliced

1

teaspoon

lemon juice

1/4

cup

brown sugar

1/8

teaspoon

salt

1

teaspoon

ground cinnamon

1

pinch

ground nutmeg
Instructions
In a large skillet, melt bacon drippings or butter.

Spread the apples evenly over the skillet bottom.

Sprinkle lemon juice over the apples, followed by the brown sugar and salt.

Cover and cook over low heat for 15 minutes, until apples are tender and juicy.

Sprinkle with cinnamon and nutmeg and serve.

You can add a squeeze of lemon at the finish for enhanced flavor, this is optional.
Notes
The video demonstrates this with apples that were not peeled. A personal choice should be made when preparing this recipe.
Nutrition
Calories:
78
kcal
|
Carbohydrates:
7
g
|
Protein:
0
g
|
Fat:
5
g
|
Saturated Fat:
3
g
|
Cholesterol:
15
mg
|
Sodium:
88
mg
|
Potassium:
9
mg
|
Fiber:
0
g
|
Sugar:
6
g
|
Vitamin A:
175
IU
|
Vitamin C:
0.2
mg
|
Calcium:
10
mg
|
Iron:
0.1
mg