Experience the joy of homemade Italian cuisine with this easy canned spaghetti sauce recipe! Made with fresh tomatoes, aromatic herbs, and a touch of garlic, this sauce brings the rich and robust flavors of an Italian grandmother's kitchen to your pantry. The secret? An easy canning guide that leads you through the process of how to make and can spaghetti sauce. No preservatives, no additives, just pure, delicious homemade goodness that's ready whenever you are.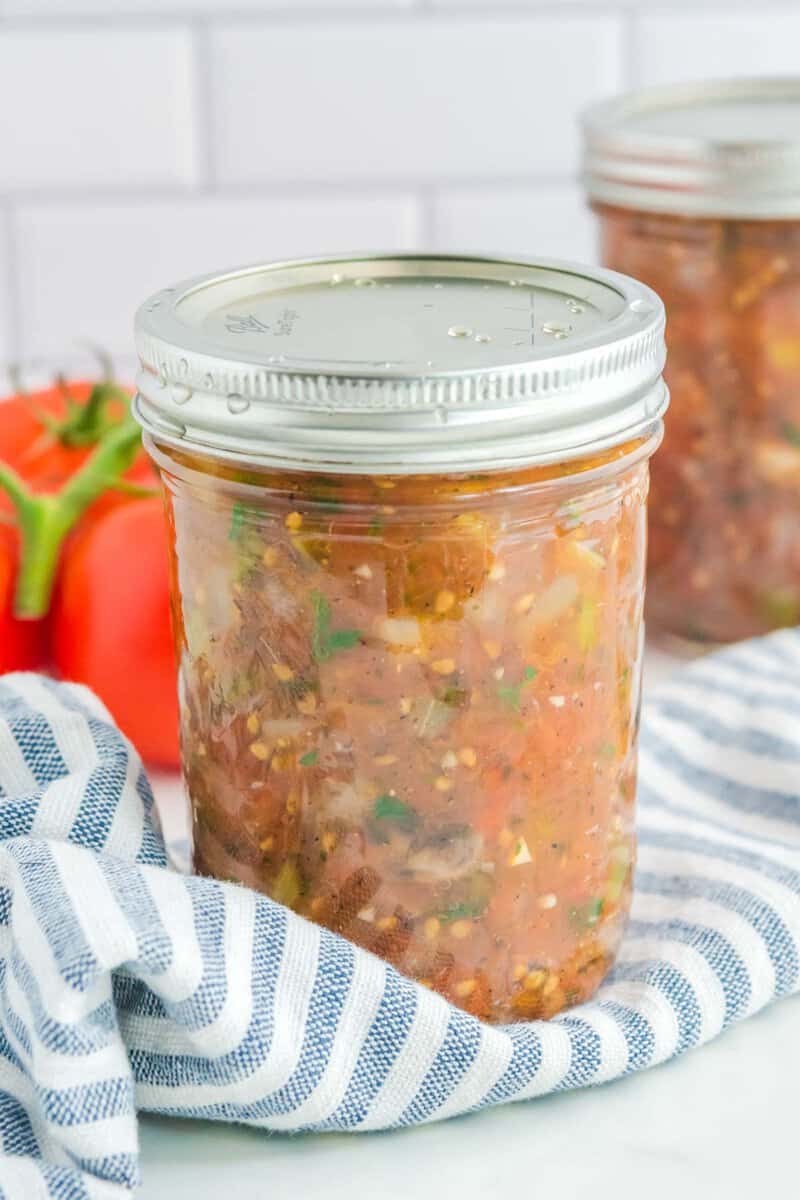 This post contains affiliate links. As an Amazon Associate, I earn from qualifying purchases.
Canning Spaghetti Sauce
Canning spaghetti sauce is the perfect way to preserve all those tomatoes ripening on the vine in your garden. Don't worry; if you don't have a garden, you can go out and buy ripe tomatoes in bulk and save a ton of money over buying spaghetti sauce in the store.
Why You Should Try This Best Canned Spaghetti Sauce Recipe
This is a tried-and-true spaghetti sauce recipe you can rely on to be perfect for canning. Canning spaghetti sauce made with fresh ripe tomatoes in your own kitchen is way better than any sauce you can buy in a store. Homemade canned spaghetti sauce is within your reach, and you'll love this recipe's rich, savory flavor.
Canned Spaghetti Sauce Recipe – Ingredients You Will Need
Homemade canned spaghetti sauce means you will always have a jar of this delicious sauce handy. Here are the ingredients:
Tomatoes
Onions
Garlic
Celery or green pepper
Mushrooms (optional)
Vegetable oil
Oregano
Fresh parsley
Salt and black pepper
Brown sugar
Equipment Needed
How to Prepare Spaghetti Sauce for Canning
This is how to make this homemade spaghetti sauce canning recipe:
Dip the tomatoes in boiling water to split the skins.
Dip them in cold water and peel off the skins. Remove the cores and cut the tomatoes into quarters.
Boil the tomatoes for 20 minutes over medium-high heat, then strain them through a sieve.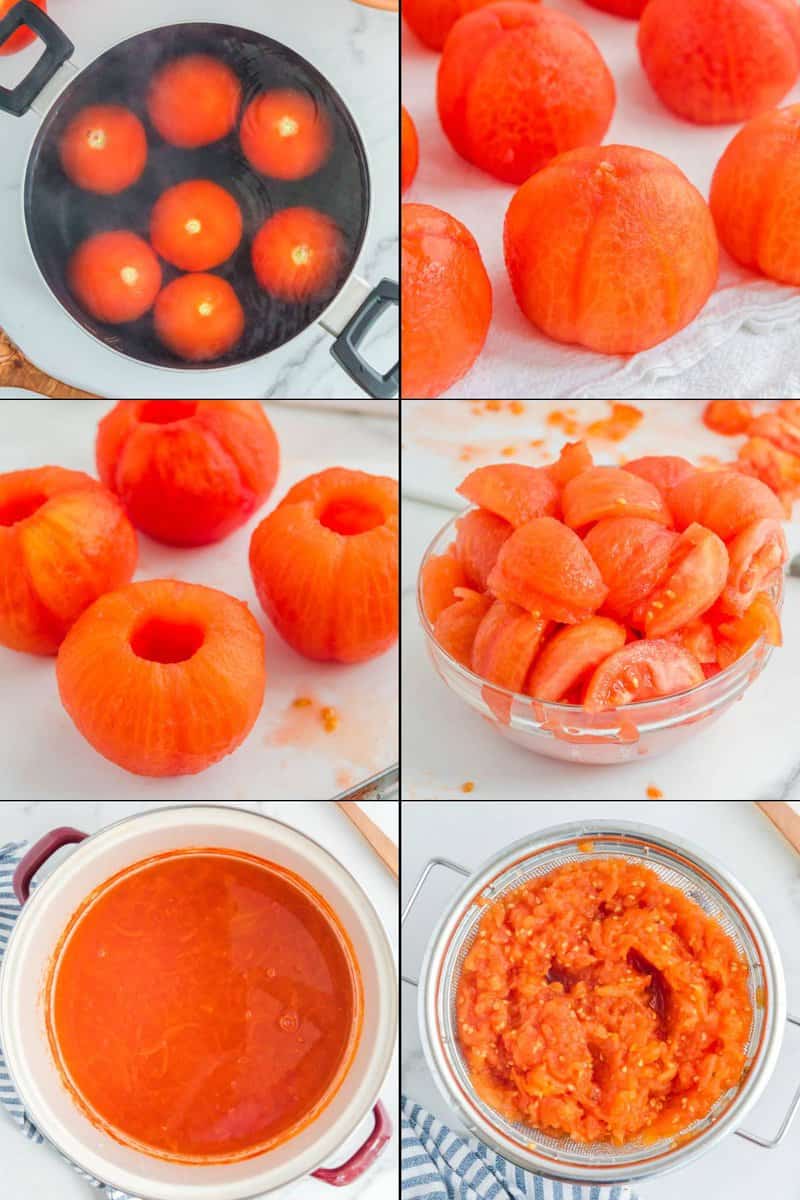 Sauté the onions, garlic, celery or pepper, and mushrooms (if desired) until tender.
Combine the vegetables, tomatoes, salt, oregano, parsley, black pepper, and sugar in a large stockpot and bring to a boil.
Simmer, stirring frequently, until you have a thick sauce.
How to Can Spaghetti Sauce
Sterilize your jars by boiling them in a large pot for 10 minutes (the water should cover the jars). Keep them hot until you're ready to use them.
Using a canning funnel, fill the jars with the hot spaghetti sauce, leaving about 1 inch of headspace. Remove air bubbles and adjust the headspace, if necessary, by adding or removing sauce.
Wipe the rims of the jars clean, place the lids on, and screw on the rings until they're finger-tight.
Using a jar lifter, carefully lower the jars into the pot of boiling water, making sure they're fully submerged and at least 1 inch of water is over the tops of the jars. Boil for 35 minutes for pint jars and 40 minutes for quart jars.
Using the jar lifter, carefully remove the jars and place them on a towel or cooling rack on the counter. Leave them undisturbed for 12 to 24 hours. You'll hear a popping sound as they cool, which means they're sealing.
After they're cool, check the seal by pressing the center of each lid. If it doesn't pop back, it's sealed. If a jar doesn't seal, store it in the fridge and use it within a week.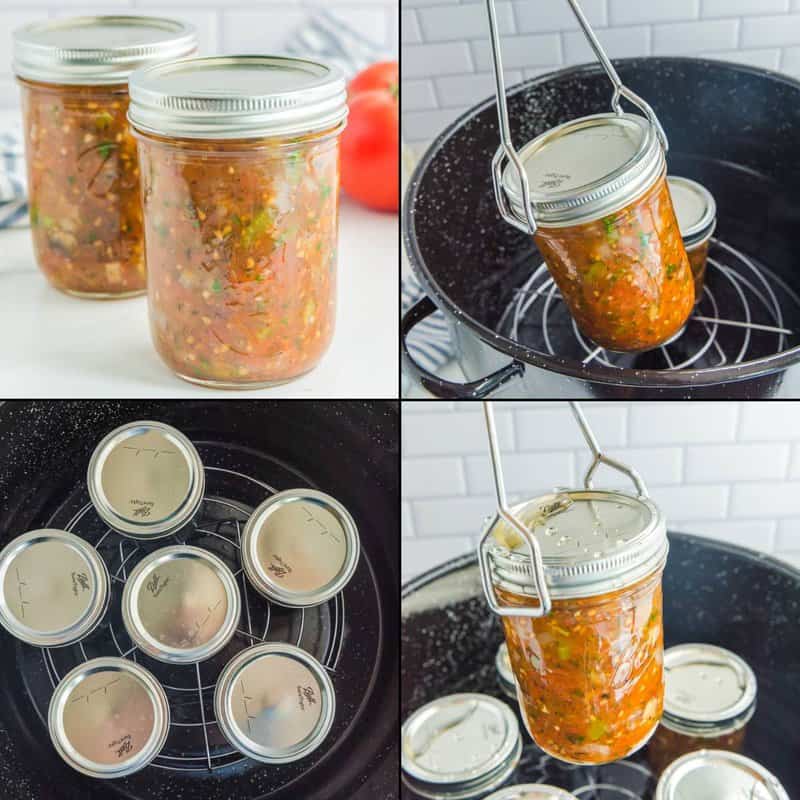 Remember, these instructions are for canning high-acid foods using a water bath canning method. Always follow safety guidelines to ensure you're preserving food safely.
Frequently Asked Questions
Which tomatoes are best for this home-canned spaghetti sauce recipe?
Tomatoes come in many different varieties. Some tomatoes are best for slicing, while others make more flavorful tomato sauce. See this guide to the ten best tomatoes for tomato sauce.
What's the difference between pressure canning and water bath canning?
Water bath canning involves immersing jars in boiling water to kill most organisms that cause food spoilage, suitable for high-acid foods like jams and pickles. Pressure canning utilizes high temperature (above boiling point) achievable under pressure to kill more resistant bacteria and spores, making it appropriate for low-acid foods such as meats and vegetables.
When canning spaghetti sauce, is it ok to add ground beef?
You can add ground beef or ground Italian sausage only if you plan to pressure can your sauce. Do not add meat if you are going to use water-bath canning – it will not be safe to eat.
Can you freeze this spaghetti sauce instead of canning it?
Absolutely! This spaghetti sauce recipe freezes really well and lasts for several months in freezer bags or freezer-safe containers. If you want to add more random ingredients like ground beef or extra veggies, freezing is a good way to go if you are worried about acidity levels.
What tools do you need to can spaghetti sauce?
A lot depends on the type of canning process you choose. However, whichever way you go, you will need canning jars. See below for an equipment list.
How Can You Use Home-Canned Spaghetti Sauce?
Homemade canned spaghetti sauce is so versatile. The name may say spaghetti, but it's sure to become one of your favorite staples and not just on pasta. Here are some dishes that are perfect for this sauce:
How Long Does Canned Spaghetti Sauce Last?
Unopened: You can store unopened spaghetti sauce in a cupboard for around 12 to 18 months.
Opened – Once opened, the sauce will generally stay fresh for a week in the refrigerator before the air starts to create a mold on top.
Home Canning Resources
Although this recipe is suited for canning with the water bath method, this post is not intended to be a guide on canning. Please go to other sites for detailed information about canning. Here are some sites to check out:
Favorite Sauce Recipes
Popular Spaghetti Recipes
Check out more of my easy sauce recipes and the best Italian recipes on CopyKat!
Ingredients
30

pounds

tomatoes

1

cup

chopped onions

5

cloves

garlic, minced

1

cup

chopped celery or green pepper

1

pound

fresh mushrooms, sliced (optional)

1/4

cup

vegetable oil

4

1/2

teaspoons salt

2

tablespoons

oregano

4

tablespoons

minced parsley

2

teaspoons

black pepper

1/4

cup

brown sugar
Instructions
Wash tomatoes and dip them in boiling water for 30 to 60 seconds or until the skins split. Dip in cold water and slip off the skins. Remove cores and quarter tomatoes. 

Boil the tomatoes for 20 minutes, uncovered, in a large saucepan. Put through a food mill or sieve. Sauté onions, garlic, celery or peppers, and mushrooms (if desired) in vegetable oil until tender. Combine sautéed vegetables, tomatoes, salt, oregano, parsley, black pepper, and sugar. Bring to a boil. 

Simmer uncovered, until thick enough for serving. At this time the initial volume will have been reduced by nearly one-half. Stir frequently to avoid burning. Fill jars, leaving 1-inch headspace. Adjust lids.

Dial Gauge Canner – Process at 11 pounds pressure – Pints 20 minutes and Quarts 25 minutes.

Weighted Gauge Canner – Process at 10 pounds pressure – Pints 20 minutes and Quarts 25 minutes.
Notes
Caution:
Do not increase the proportion of onions, peppers, or mushrooms. If you do, you will affect the sauce's acidity, and it will be necessary to use a pressure canner.
Nutrition
Calories:
112
kcal
|
Carbohydrates:
21
g
|
Protein:
4
g
|
Fat:
2
g
|
Saturated Fat:
1
g
|
Cholesterol:
0
mg
|
Sodium:
79
mg
|
Potassium:
1153
mg
|
Fiber:
5
g
|
Sugar:
14
g
|
Vitamin A:
3845
IU
|
Vitamin C:
63.9
mg
|
Calcium:
57
mg
|
Iron:
1.5
mg