Starbucks Vanilla Latte is a wonderful and creamy coffee drink with rich flavor. Save money and make this delicious homemade espresso drink with simple ingredients.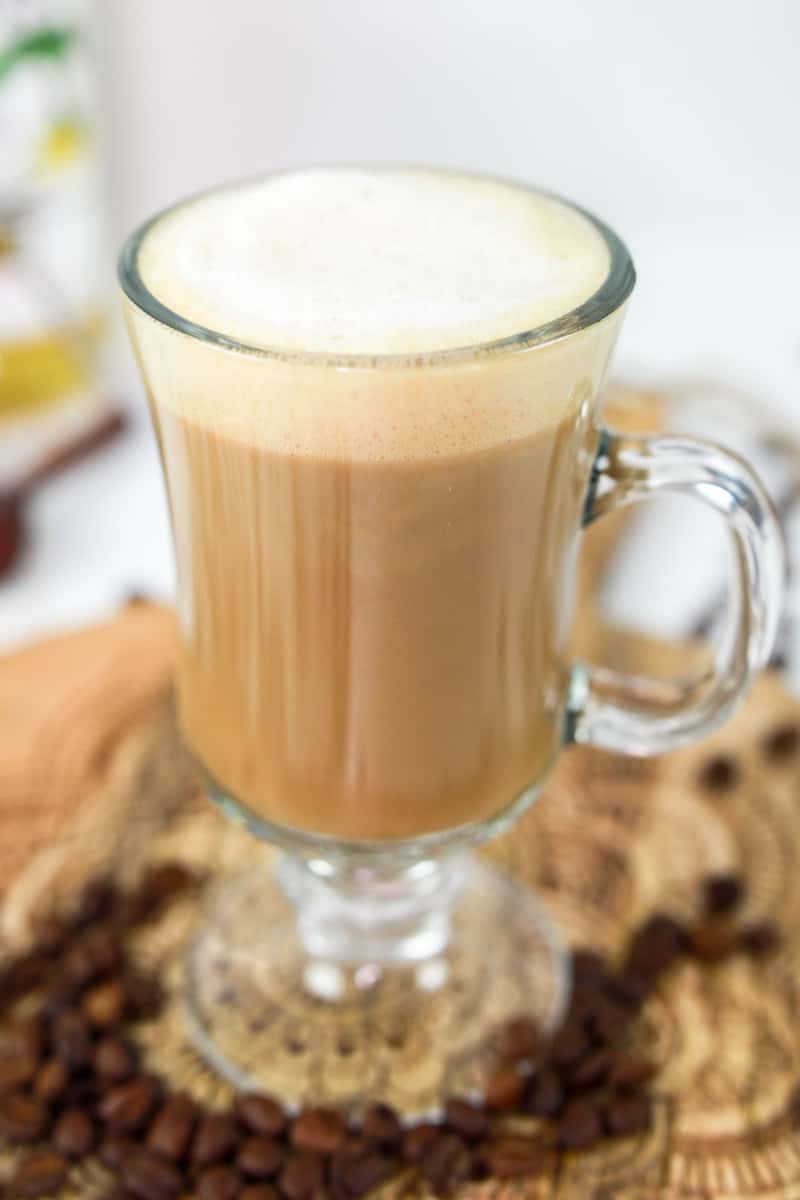 This post contains affiliate links. As an Amazon Associate, I earn from qualifying purchases.
What is a Classic Vanilla Latte?
A classic Vanilla Latte is a popular variation on the cafe latte.
Some people get confused about the difference between a cappuccino and a cafe latte. Although there are variations, a real cappuccino is equal layers of espresso, steamed milk, and foam.
On the other hand, there is twice as much steamed milk as espresso in a cafe latte and just a thin layer of foam on top. A vanilla latte adds a tablespoon of vanilla syrup to the drink.
Why This Starbucks Vanilla Latte is the Recipe You Must Try
There is nothing complicated about this homemade vanilla latte recipe. You can even make it without an espresso maker or milk steamer.
See "Can I Make a Latte Without an Espresso Machine?" and "How to Steam Milk at Home" sections below. Do you want to cool down? Try making an Iced Vanilla Latte!
Recipe Ingredients
To make this Vanilla Latte Starbucks Recipe, you will need:
Vanilla Syrup
Espresso
Steamed and Frothed 2% Milk
A good quality vanilla syrup that uses real sugar and no artificial ingredients is key to this Starbucks Vanilla Latte recipe. Monin Vanilla Syrup is an excellent option. You can also make your own Starbucks vanilla syrup.
Vanilla Latte Ingredient Substitutions
You can vary the flavor of the latte by changing the flavor of syrup. You can try a variety of syrups from classics like Hazelnut and Irish Cream to more unusual syrups such as Chocolate Macadamia Nut and French Toast.
Try switching out the milk for a non-dairy substitute like oat milk.
How to Make a Vanilla Latte
It's easy to make one of the tastiest Starbucks espresso-based beverages at home by following a few simple steps.
Pour the vanilla syrup into a coffee cup.
Add espresso.
Add steamed and frothed milk. Stir.
Top with frothed milk foam or whipped cream if desired.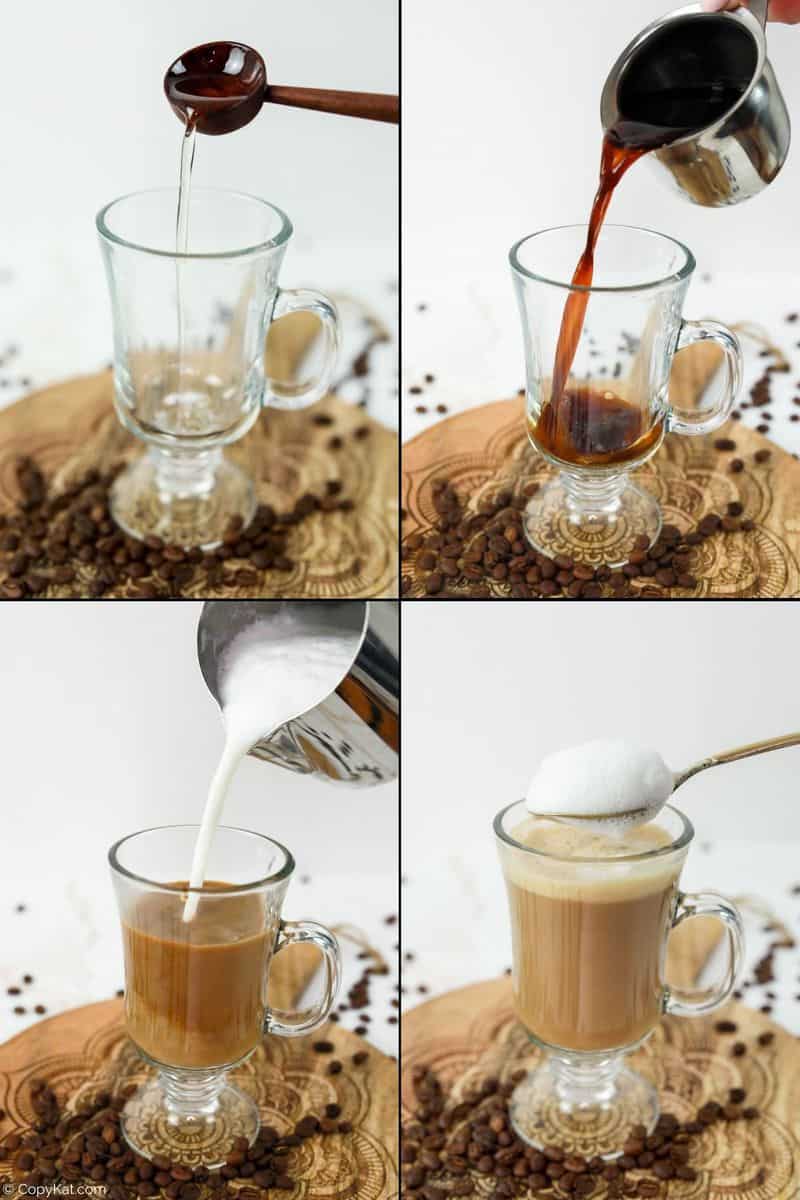 Can I Make a Latte Without an Espresso Machine?
Absolutely. You don't need an expensive espresso machine to make a latte at home. One of the quickest and best options is to use instant espresso powder. Medaglia D Oro Coffee Instant Expresso is a good choice.
Even if you don't usually like using instant coffee, the instant espresso powder works well in this Starbucks Vanilla Latte recipe.
A Moka pot, often called a stovetop espresso maker, is also a great option. Moka coffee may not be as acidic as espresso, but it is rich and full-flavored.
You can get a Moka Pot online. Of course, you can also use the coffee brewer you already have and add 50 percent more coffee grounds for a bolder taste.
How to Steam Milk at Home
Although you may not get the same level of micro-foam that you expect from your local coffee shop, you can make a pretty passable foam at home without an espresso machine.
The easiest way is to heat milk up on the stove and use a whisk to whip it. You'll get large, loose bubbles, but it won't affect the drink's flavor.
Use a stick blender to froth warm milk.
You can use a French press to create a decent foam. Learn how to froth milk with a French press by watching this video.
A standalone electric milk frother does an excellent job heating and producing good quality foam. If you make a lot of coffee drinks at home, it is a perfect addition to your kitchen.
Vanilla Latte Variations
Besides changing the type of syrup you use in this latte, you can also consider:
Adding white chocolate sauce.
Replacing an ounce of milk with an ounce of your favorite bourbon.
Blending with a cup of ice for a Vanilla Latte Smoothie.
Turn This Hot Vanilla Latte Starbucks Recipe Into an Iced Latte
No one wants to drink a hot coffee in the heat of the summer, but the cold version of this coffee is just as delicious.
Brew the coffee and put it in the fridge until chilled. You can save time by making a large amount at one time and keeping it in the refrigerator for up to three days.
Combine the chilled coffee, cold milk, and vanilla syrup and stir.
Pour into a glass with ice and add a dollop of whipped cream on top if you want.
What Goes Well with This Starbucks Vanilla Latte Recipe?
Since this homemade vanilla latte is already sweet, you don't want to have anything overly sugary, but a vanilla scone or a few shortbread cookies will pair well.
Popular Starbucks Drink Recipes
Favorite Fast Food Drinks
Check out more of my easy drink recipes and the best Starbucks copycat recipes here on CopyKat!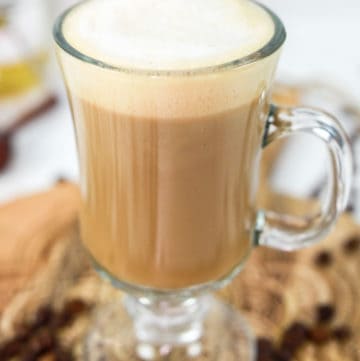 Ingredients
1

tablespoon

vanilla syrup

2

shots

espresso

(2 ounces total)

1

cup

steamed and frothed 2% milk
Instructions
Place vanilla syrup in a coffee cup.

Add espresso.

Add steamed and frothed milk. Stir to combine.

Top with frothed milk foam. Enjoy!
Nutrition
Calories:
177
kcal
|
Carbohydrates:
27
g
|
Protein:
8
g
|
Fat:
5
g
|
Saturated Fat:
3
g
|
Polyunsaturated Fat:
1
g
|
Monounsaturated Fat:
1
g
|
Trans Fat:
1
g
|
Cholesterol:
19
mg
|
Sodium:
130
mg
|
Potassium:
408
mg
|
Sugar:
27
g
|
Vitamin A:
241
IU
|
Vitamin C:
1
mg
|
Calcium:
287
mg
|
Iron:
1
mg