This Japenese Salad Dressing is one that I am excited to share with you. Often Japanese restaurants serve two basic salad dressing recipes, this one of those versions.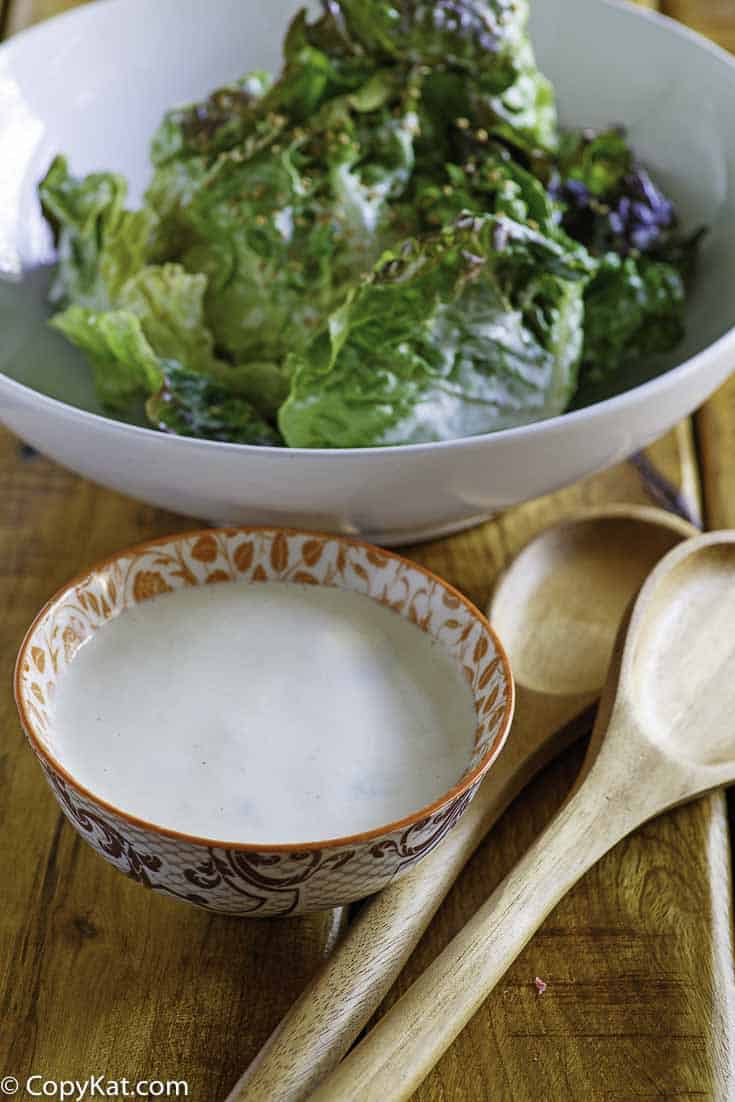 I love the creamy salad dressing served at places like Shogun, or perhaps you have a local Japanese Teppanyaki place where they serve up a fresh salad before every meal. For a long time, I pondered over what made those salads so amazing. I believe the ingredient you really need is fresh miso paste. I won't lie, the ingredient is likely to be found at a larger grocery store, often in the product section, or an Asian market. Miso adds a salty rich flavor that you don't want to miss. Don't fret you can enjoy the miso you use in many other recipes.
So this salad dressing wasn't an intentional copycat recipe from a specific restaurant. I tried to make a salad dressing in the style of the creamy miso salad dressing that I thought was the best. Some of them have elements of garlic, where a few have a touch of toasted sesame seed oil. The result was this style of dressing that would work for all of these places. This salad dressing can be used to drizzle over fish, or even used as a dipping sauce for grilled chicken.
The ingredients in the recipe are mayonnaise for the creamy base, seasoned rice vinegar, rice cooking wine (mirin), peanut oil, fresh garlic, sugar, soy sauce, and miso. Some of these you may already have in your pantry if you do a lot of Asian style cooking. I know if you try this salad dressing it will soon become a favorite!
More Teppanyaki Copycat Recipes
Benihana Fried Rice
Benihana Magic Mustard
Benihana Salad Dressing

Japanese Salad Dressing
You can make a delicious Japanese Salad dressing in no time at all.
Ingredients
1

cup

mayonnaise

1 1/2

tablespoons

white miso

2

teaspoons

garlic

minced

1/4

cup

seasoned rice vinegar

1/4

cup

rice cooking wine

or mirin

1

tablespoon

sugar

1/4

cup

soy sauce

1/4

cup

peanut oil

vegetable oil is ok

1/8

teaspoon

toasted sesame oil
Instructions
Combine all ingredients in a bowl, and mix together. Store in an airtight container. The salad dressing stays fresh for about 1 week.
Nutrition Facts
Japanese Salad Dressing
Amount Per Serving
Calories 224
Calories from Fat 198
% Daily Value*
Total Fat 22g 34%
Cholesterol 9mg 3%
Sodium 606mg 25%
Potassium 22mg 1%
Total Carbohydrates 4g 1%
Protein 1g 2%
* Percent Daily Values are based on a 2000 calorie diet.
Japanese Salad Dressing
Cook time


PT5M mins

Prep time


PT5M mins

Total time


0 mins
Author:

Stephanie Manley

Recipe Type:

Salad Dressing

Serves:

10
You can recreate the creamy salad dressing of many Teppanyaki places at home.
Ingredients
1 cup mayonnaise

1 1/2 tablespoons white miso

1 to 2 teaspoons minced garlic, or garlic that has been pressed through a garlic presser

1/4 cup seasoned rice vinegar

1/4 cup rice cooking wine or Mirin

1 tablespoon sugar

1/4 cup soy sauce

1/4 cup peanut oil or vegetable oil

1/8 teaspoon toasted sesame oil
Directions
Combine all ingredients in a bowl
Print Recipe