Outback Steakhouse Bloomin Onion Sauce is a delicious and versatile sauce. You can use it as a dip for a blooming onion or onion rings, steak sauce, or sandwich spread. There is one thing for sure: everyone will wonder how you made this recipe.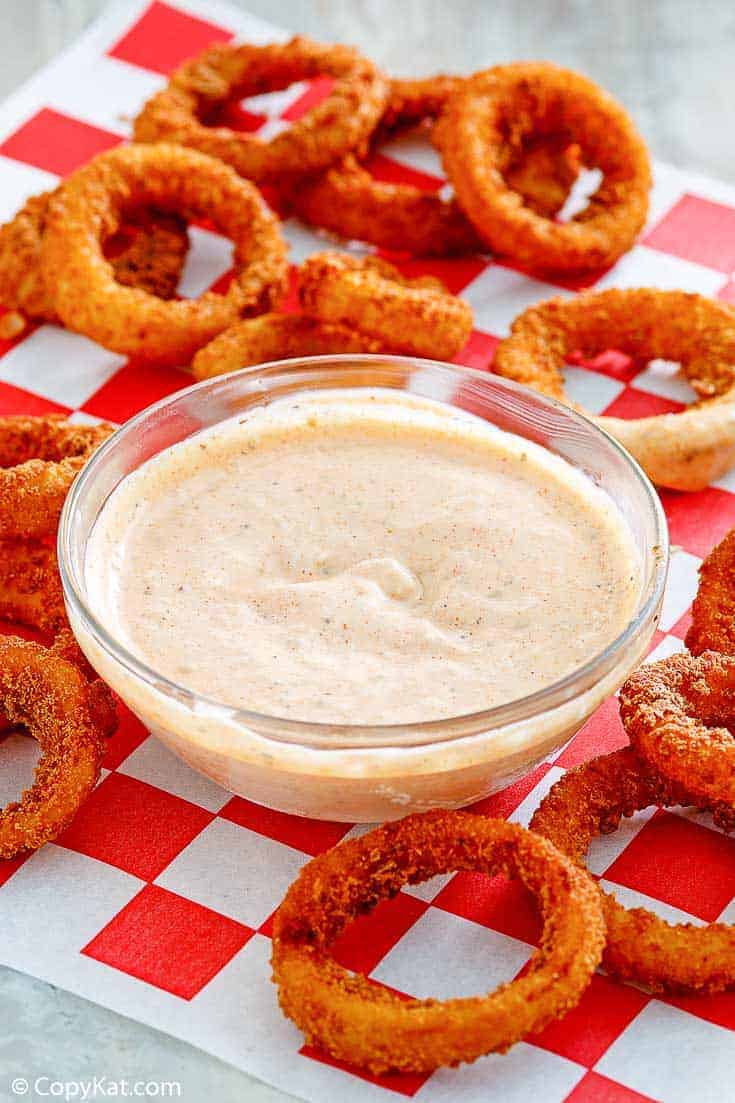 Sauce for Blooming Onion
No trip to Outback Steakhouse is complete without an order or two of Bloomin Onions. And without the legendary Bloomin Onion dip sauce, the famous appetizer is little more than just a fancy-looking onion ring.
The good news is that you probably already have most of the ingredients in your cupboard to whip up your own Outback Bloomin Onion sauce. The next time you make a homemade Bloomin Onion or just want to add a bit of zest to your next meal, try this quick and easy Outback Bloomin Onion sauce recipe.
The Outback Bloomin Onion Sauce's Secret
The Bloomin Onion dip sauce packs a bit more of a kick than most other condiments, and that power comes from horseradish. While not everyone has a jar of horseradish hanging out in the back of the fridge, it would undoubtedly be a big mistake to leave it out of this recipe to save a trip to the store.
For those unfamiliar with horseradish, it is a root with a pungent and spicy taste similar to wasabi, and it is the ingredient that gives cocktail sauce its nose-clearing ability.
Most supermarkets only stock horseradish pre-shredded and preserved in a jar, but depending on where you shop, you may also find it in its original root form. The fresh horseradish is particularly flavorful, but unless you plan on making a lot of Outback Bloomin Onion sauce, stick to the milder and longer-lasting jarred variety.
If you choose to use fresh horseradish in the dipping sauce recipe, you may want to reduce the quantity of horseradish slightly.
It's Delicious With More Than Just Onions
You can't find a better dipping sauce for onion rings or onion petals than this recipe, but Blooming Onion dip sauce is much more versatile than that. This sauce also works particularly well with any mild or sweet fried vegetables like fried mushrooms, sweet potato fries, and French fries.
Try it on breaded shrimp, chicken tenders, tater tots, or even mozzarella sticks! Are you trying to get your family to eat a little healthier? Kids (and their parents) will gobble up carrot and celery sticks, and even broccoli when they can dip them in a bowl of Bloomin Onion sauce!
Bloomin Onion sauce also makes a wonderful condiment for hamburgers, chicken, and salmon. Experiment for yourself, and you will find that it's the perfect accompaniment for any meal that needs a little zip.
Bloomin Onion Sauce Ingredients
Here is what you need to make the blooming onion dipping sauce:
Mayonnaise
Ketchup
Horseradish
Paprika
Salt
Garlic powder
Dried oregano
Black pepper
Cayenne pepper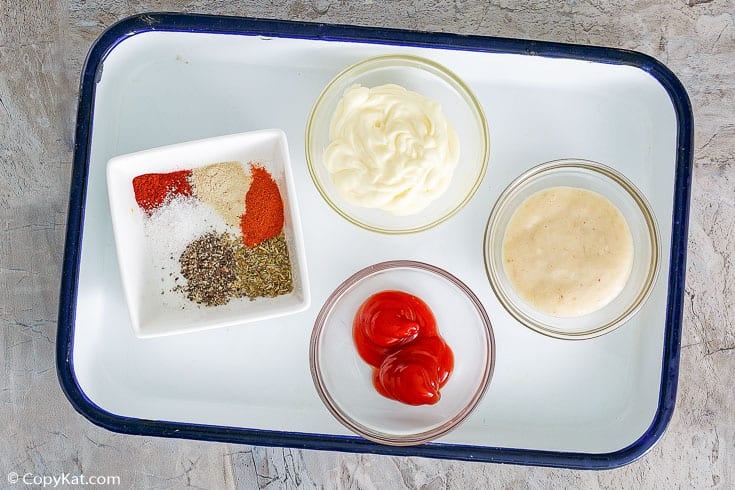 How to Make Outback Bloomin Onion Sauce
Place all the ingredients in a bowl and stir to combine.
Refrigerate the sauce for at least 30 minutes before serving.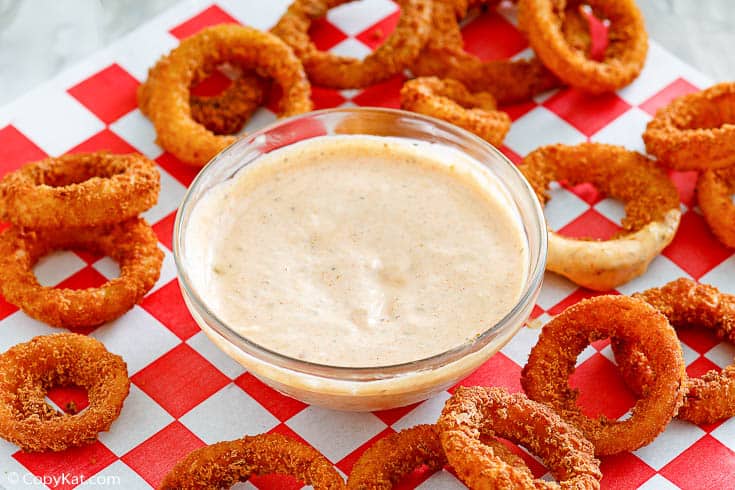 Preparing and Storing Tips For the Outback Bloomin Onion Sauce Recipe
Be careful with the horseradish. Remember that horseradish is strong, so it is best to add it little by little at the end of the recipe and taste so you won't end up with a sauce that is too pungent for you to enjoy.
Prepare the sauce in advance. The sauce needs a few hours in the fridge to cool down and fully incorporate its flavors. Remember to store the sauce in an airtight container in the refrigerator and use it before two weeks to ensure it stays fresh.
Throw out any unused sauce that you serve. You should not re-refrigerate any sauce for health reasons. Avoid throwing out extra sauce by serving only a little at a time.
What to serve with Outback Bloom sauce?
You can serve this sauce with so many things, here are some of my favorites!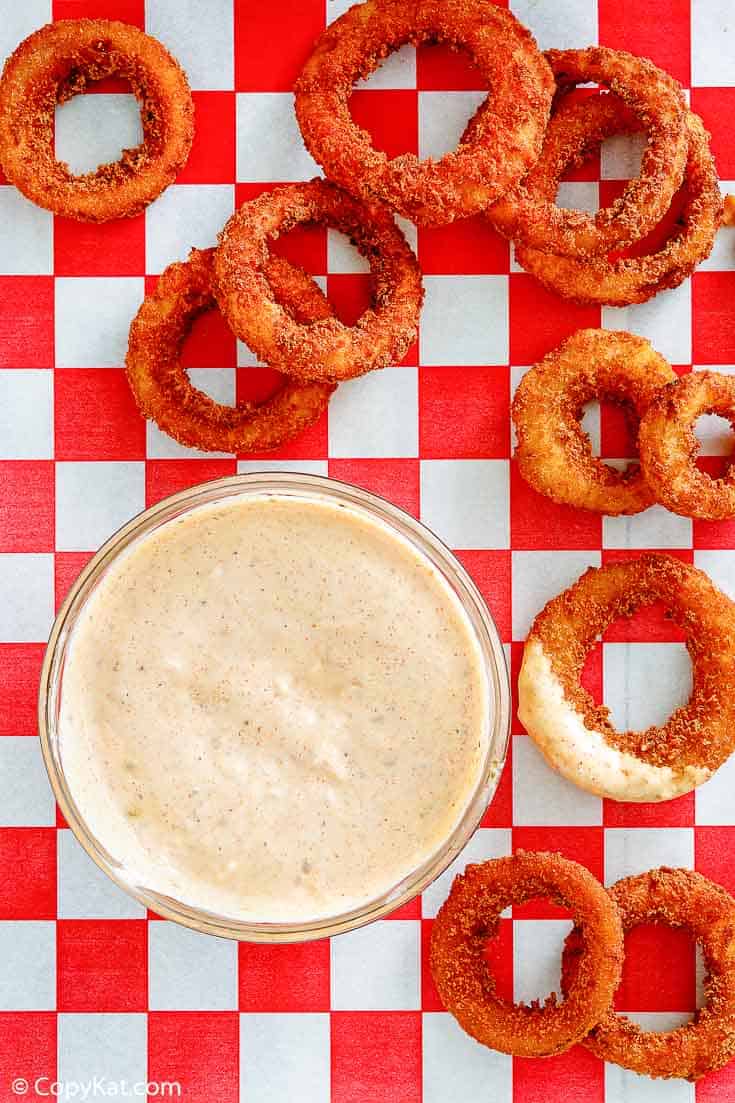 Best Outback Copycat Recipes
Best Copycat Onion Rings Recipes
Be sure to look at more of my Outback Steakhouse copycat recipes, delicious dips, and tasty appetizers.
Remember to friend us on Facebook to get our latest recipes!
This recipe was adapted from spiccycp.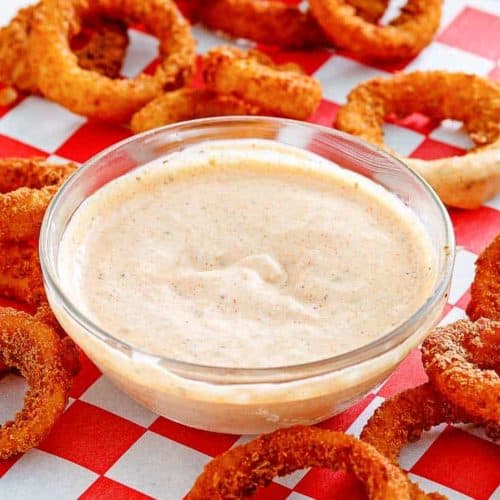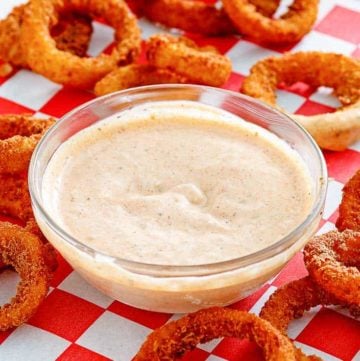 Ingredients
1/2

cup

mayonnaise

2

teaspoons

ketchup

2

tablespoons

horseradish (little less)

1/4

teaspoon

paprika

1/4

teaspoon

salt

1/8

teaspoon

garlic powder

1/8

teaspoon

dried oregano

1

dash

ground black pepper

1

dash

cayenne pepper
Instructions
Combine all ingredients and mix well. Cover and place in the refrigerator for at least 30 minutes before serving.
Nutrition
Calories:
197
kcal
|
Carbohydrates:
1
g
|
Protein:
0
g
|
Fat:
21
g
|
Saturated Fat:
3
g
|
Cholesterol:
11
mg
|
Sodium:
377
mg
|
Potassium:
18
mg
|
Fiber:
0
g
|
Sugar:
1
g
|
Vitamin A:
95
IU
|
Vitamin C:
1.9
mg
|
Calcium:
4
mg
|
Iron:
0.1
mg