Homemade White Gravy is great over biscuits, chicken, pork chops, or chicken fried steak. There's no need to get a mix when you can make the best white gravy from scratch with a few simple ingredients.
This post contains affiliate links. As an Amazon Associate, I earn from qualifying purchases.
Why White Gravy Is So Good?
Southern households really treasure a good white cream gravy recipe. Whether served over biscuits, pork chops, or chicken fried steak, the gravy's creamy consistency and pepper flavor are too delicious to pass up.
Southern white gravy will keep you coming back for more, no matter where you live.
Why This Recipe for Homemade White Gravy Is the One You Must Try
With only five ingredients, whipping up white gravy from scratch is quick and inexpensive. There is absolutely nothing complicated about this recipe, so skip the mix, and make your own instead.
It tastes incredible the way it is, and it's a perfect starting point for you to get creative and customize it to suit your preferences.
What is White Gravy Made Of?
To make Southern white gravy, you'll need these ingredients:
Butter
All-purpose Flour
Milk
Salt
Black Pepper
Use a pepper mill set on coarse for this recipe. The large flecks of crushed pepper really add to the flavor and texture of this gravy.
How to Make White Gravy
Here are the simple steps for this easy white gravy recipe:
Melt butter in a skillet over medium heat.
Add flour.
Stir and cook until the roux is light brown.
Slowly add milk, stirring while pouring it in the skillet. Cook until the gravy has thickened.
Stir in the seasonings and serve.
Top Tips for Making Homemade Gravy
Although the recipe is easy, there are a few things you need to do to ensure the gravy is as good as possible:
Make sure to cook the rawness out of the flour without browning it. Kneading the butter and flour together before putting it in the pan can help, but you must pay attention to what's happening in the pan and be ready to turn the heat down.
Start whisking in the milk as soon as you start smelling a pie crust aroma coming from the pan.
Pour the milk slowly into the pan and whisk vigorously to prevent lumps from forming.
How To Use White Homemade Gravy
Serve this white gravy recipe as is, or use it as a base for other dishes such as pot pie, tuna noodle casserole, Croque Monsieur, and cheese sauce.
What To Serve With White Gravy With Pepper
Homemade white gravy is a natural with classic deep-fried Southern flavors like Chicken Fried Steak and Southern Fried Pork Chops, but it is much more versatile than just that. Try this recipe for white gravy from scratch on:
How To Store Leftover Gravy
Southern white gravy is best when fresh, but you can keep it in an airtight container for up to three days in the fridge. It is not good to freeze the gravy because it will ruin the consistency.
How to Reheat Gravy
Reheating in a pan on the stove is the best method, but you can use a microwave if you are in a rush.
To reheat on the stove:
Pour the white gravy into a small saucepan and add a little fresh milk to thin it out.
Heat the white gravy slowly over low heat until just warm while stirring continuously. You don't want to bring the gravy to a boil, or you risk scorching it.
To reheat in the microwave:
Pour the gravy into a microwave-safe bowl and stir in some milk to thin.
Cover with a paper towel and microwave on HIGH for 30 seconds. Stir and return the covered bowl to the microwave. Continue to heat on HIGH at 20-second intervals until the gravy is warm.
Gravy FAQ
What Is White Gravy?
White gravy is a popular pan gravy made using butter, flour, and milk, then seasoned with a pinch of salt and a lot of freshly cracked pepper.
What's the Difference Between Country Gravy and White Gravy
The type of fat makes all the differences between country gravy and white gravy. Cooks start with a clean pan and fresh butter to make white cream gravy, but country gravy always starts with pan drippings in the same pan used to cook the meat.
Is White Gravy a Southern Thing?
This white gravy recipe is very similar to a classic French bechamel sauce, but there are distinctive Southern tweaks. Copious amounts of cracked black pepper take the place of traditional nutmeg.
Then there is the consistency. White gravy has a lower milk to roux ratio than bechamel sauce, making the Southern staple much thicker.
How To Fix Lumpy White Gravy
Lumpy gravy is no fun, but fixing the problem only requires passing the gravy through a fine-mesh strainer.
Place a fine-mesh strainer on top of a bowl.
Pour the warm gravy through the strainer. Gently push the gravy through using a rubber spatula.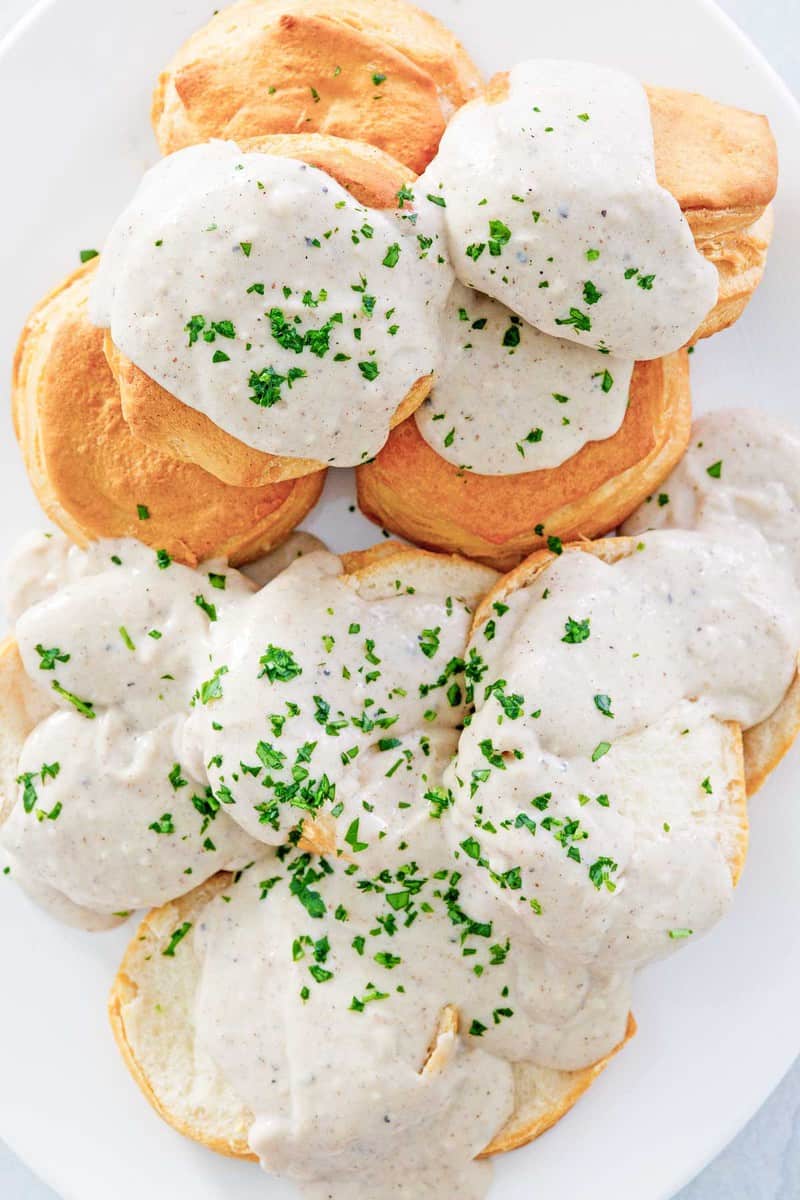 What To Eat With White Gravy
More Gravy Recipes
Favorite White Sauce Recipes
Check out more of my easy sauce recipes and the best DIY recipes here on CopyKat!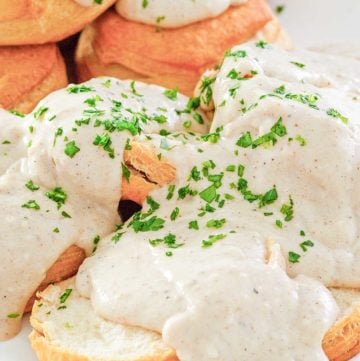 Ingredients
1/4

cup

butter

1/4

cup

all-purpose flour

1 3/4

cup

whole milk or heavy cream

1/2

teaspoon

salt

1/2 to 1

teaspoon

freshly ground black pepper
Instructions
Melt the butter in an iron skillet over medium heat.

When the butter has melted completely, add the flour.

Cook the flour and butter for approximately 1 minute, or until it becomes fragrant like pie dough.

Add milk or heavy cream, and whisk until the gravy thickens.

Season with salt and black pepper.
Nutrition
Calories:
196
kcal
|
Carbohydrates:
11
g
|
Protein:
4
g
|
Fat:
15
g
|
Saturated Fat:
9
g
|
Polyunsaturated Fat:
1
g
|
Monounsaturated Fat:
4
g
|
Trans Fat:
1
g
|
Cholesterol:
41
mg
|
Sodium:
438
mg
|
Potassium:
156
mg
|
Fiber:
1
g
|
Sugar:
5
g
|
Vitamin A:
529
IU
|
Calcium:
126
mg
|
Iron:
1
mg