Arby's Sauce is ketchup with a kick. No one does this better than Arby's. You don't need to worry about not having enough sauce anymore! Use it on your roast beef sandwiches, homemade beef and cheddar sandwiches, and so much more, this sauce packs so much flavor! Try this one today.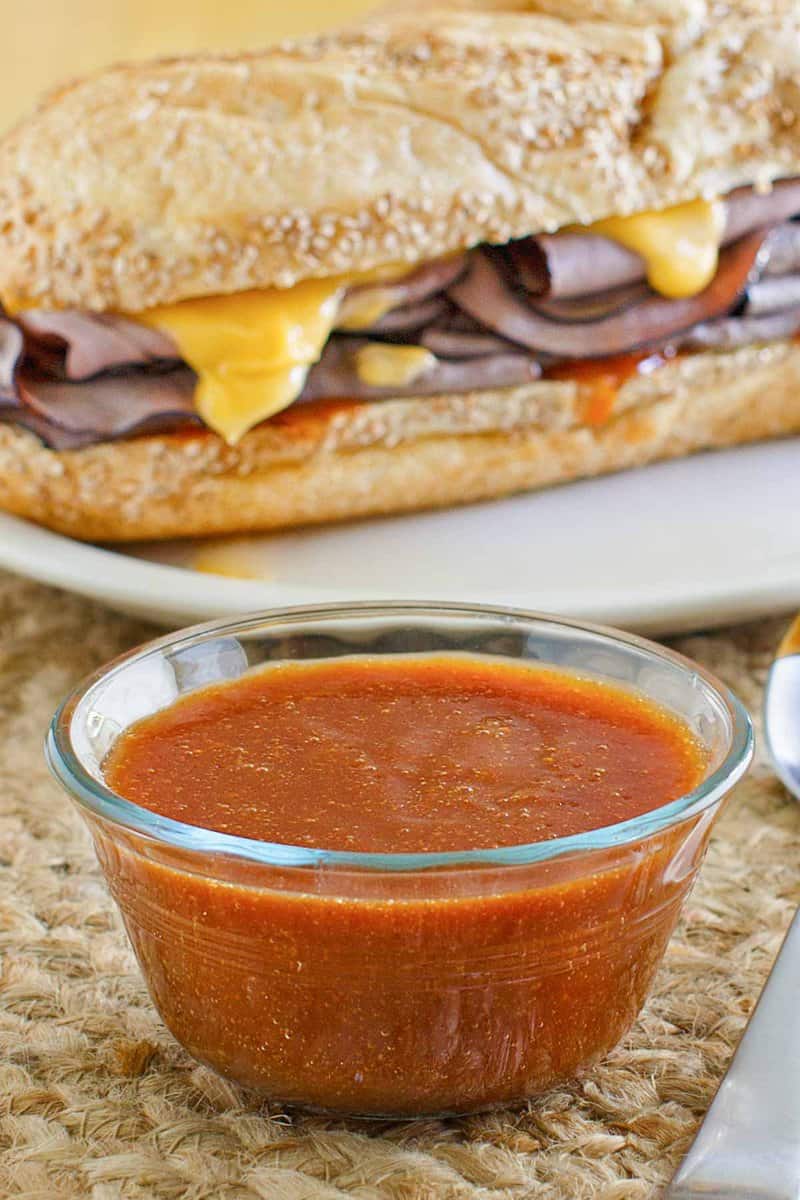 This post contains affiliate links. As an Amazon Associate, I earn from qualifying purchases.
Sandwich and Dipping Sauce
Arby's has been passing this sauce around forever with its roast beef sandwiches. I think this sauce is such a nice change on pastrami or hamburgers, and it's a great dipping sauce for hot wings. Spread it on a sandwich and your sandwich will zing.
What is Arby's sauce?
If you have never had Arby's sauce, has a sweet, tangy, and spicy flavor. It is a marriage made in heaven when it comes to flavor. You can make your own version of their signature sandwich at home with this easy recipe. It's so much more than a tangy barbecue sauce!
About Arby's
Arby's was the inspiration of two brothers, Forrest and Leroy Raffel who opened the first restaurant in Boardman, Ohio in 1964. They had the idea that there was a market opportunity for eateries based on food other than hamburgers.
The brothers first wanted to name their restaurants "Big Tex" but that name was already taken. Instead, they chose the name "Arby's" – based on "R" and "B", the initials of the Raffel Brothers. Nice and simple.
Arby's Menu
In the beginning, Arby's served up only roast beef sandwiches along with potato chips, and soft drinks. Over time, the menu expanded to include beef 'n cheddar, chicken sandwiches, curly fries, jamocha shakes, and two sauces that became Arby's famous signature sauces: horsey sauce and Arby's sauce.
More items have been experimented with and in 1991 Arby's became the first fast-food chain to offer a complete "lite" menu with several sandwiches and salads coming in at under 300 calories and 94 percent fat-free. Read a lot more about the history of Arby's.
Homemade Arby's Sauce
Having to buy something just to get some sauce is kind of expensive, but you can make Arby's tangy sauce just like they do at home. Mix this sauce up and make the family smile. Make a batch and store it in a covered container in the refrigerator so it will always be on hand.
Ingredients
Here's what you need for this copycat Arby's sauce recipe:
Ketchup
Brown Sugar
White Vinegar
Onion Powder
Garlic Powder
Paprika
Worcestershire Sauce (Lea and Perrins)
Salt
Cayenne Pepper
Water
Corn Starch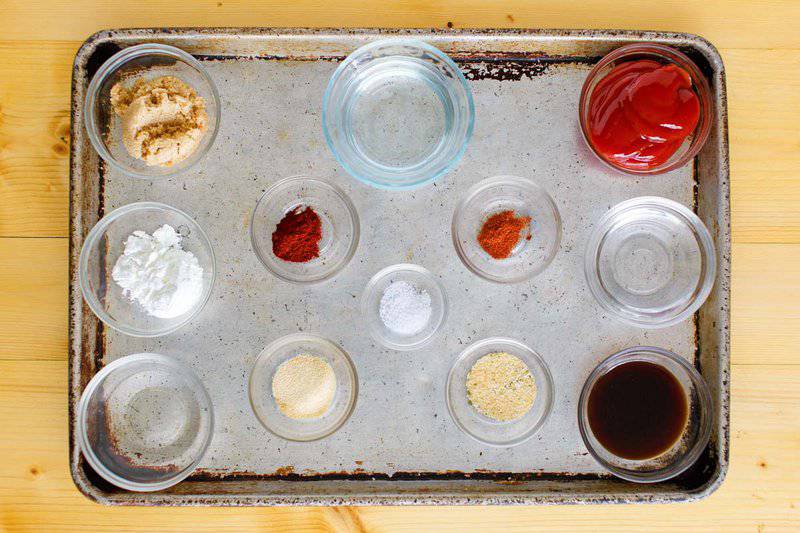 How to Make Arby's Sauce
Place all sauce ingredients in a blender and blend on high speed for 15 – 20 seconds.
Pour ingredients into a small saucepan, and heat on medium-low. Simmer gently for twenty minutes, stirring several times.
After twenty minutes add the cornstarch mixture and stir well.
When the sauce begins to thicken, let simmer at a very low temperature for ten minutes.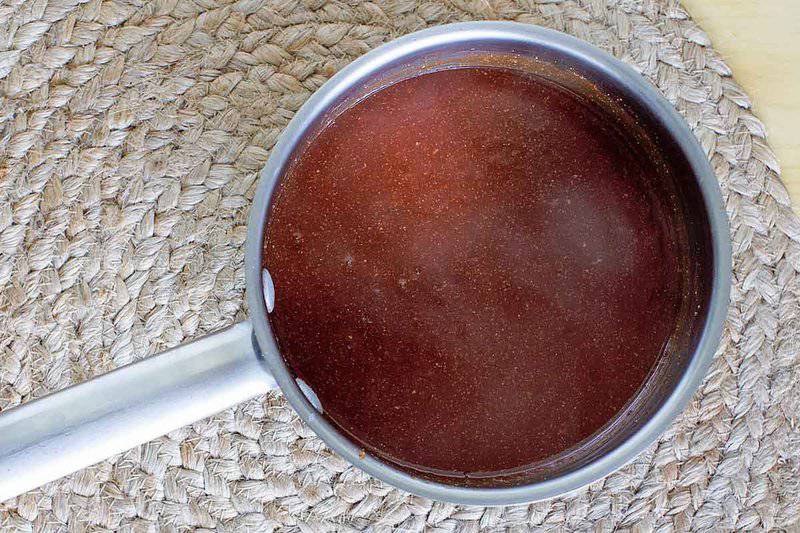 Remove from heat and let cool to room temperature. The sauce will be similar in thickness to the steak sauce.
Store in a covered container in the refrigerator.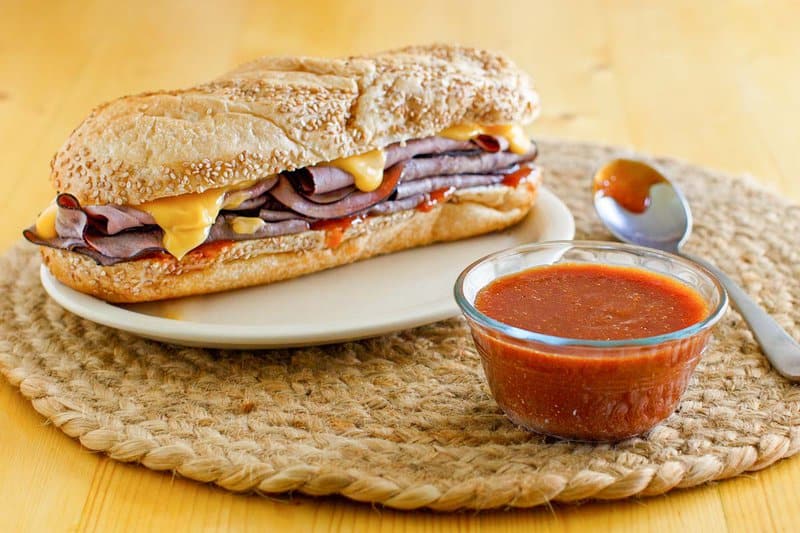 How to Use Arby's Sauce
Of course, you are going to want to use this on your own shaved roast beef sandwich. This sauce has the perfect balance of flavor, so you can use it on other food like:
Pour a little on your favorite burgers for a change.
Dip french fries into this sauce.
Use as a sauce for chicken tenders.
Dip mozzarella sticks into this sauce!
Make sloppy joes using this sauce, this is one of my family's favorite dinners!
How to Store Arby's Sauce
Now that you have made the sauce, you may not consume it all in one sitting. You can store this in either an airtight jar, mason jar, or other airtight containers. I love to place this into a squeeze bottle so I can squirt it into a sandwich!
This will last in your refrigerator for up to two weeks.
Frequently Asked Questions About Arby's Sauce
Is Arby's sauce the same as red ranch?
No, Arby's serves the red ranch sauce on their beef 'n' cheddar. The regular Arby's sauce is used on their classic sandwich and is available in packets upon request.
Is Arby sauce the same as barbecue sauce?
This classic sauce may be viewed as a barbecue sauce, but it has a larger range of spices in it to give it more flavor. This sauce is also thinner than most traditional barbecue sauce.
What does Arbys Sauce taste like?
Arby's sauce tastes like a BBQ sauce that has been leveled up. It packs a kick of garlic, onion, paprika, and so much more.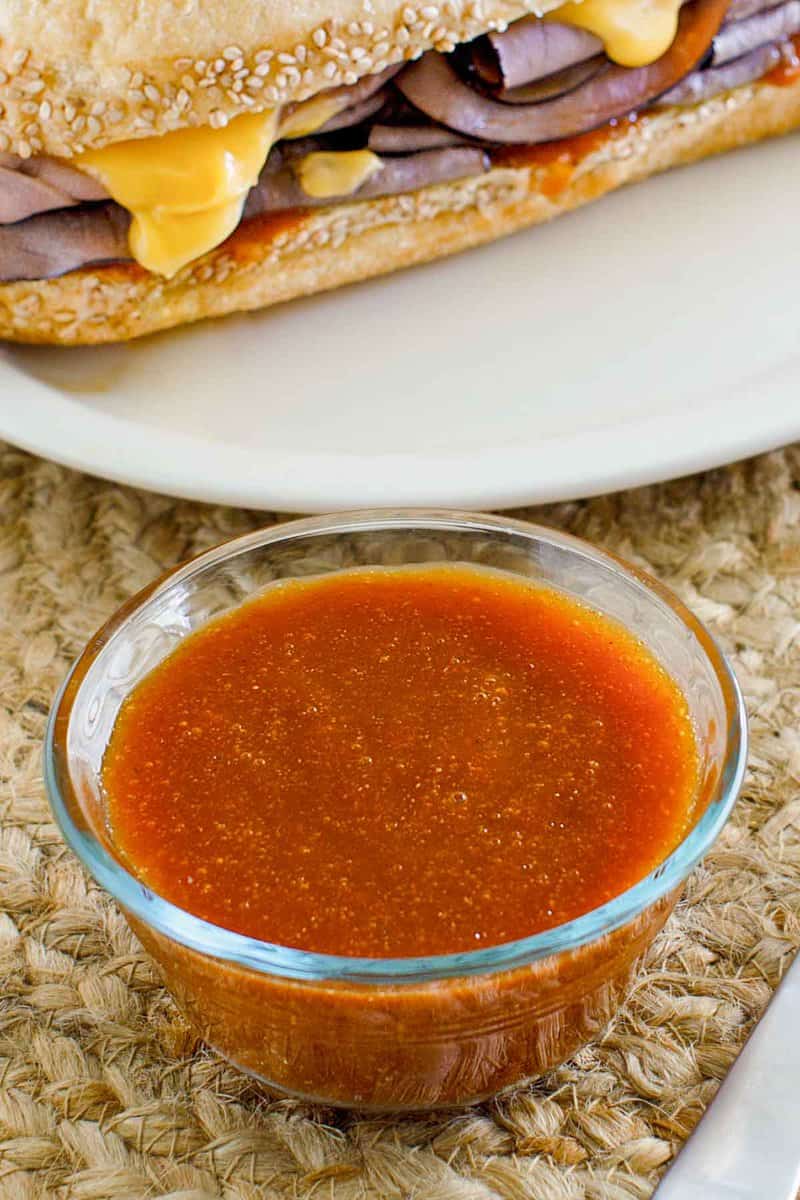 Want more copycat Arby's recipes? Try these!
Easy Sandwich and Dipping Sauce Recipes
Be sure to check out more of my popular fast food copycat recipes and the best dips and sauces.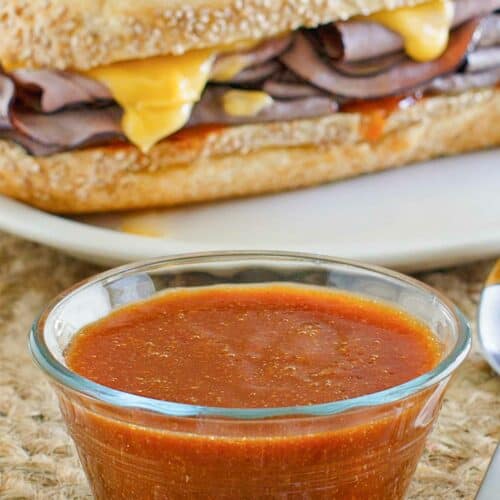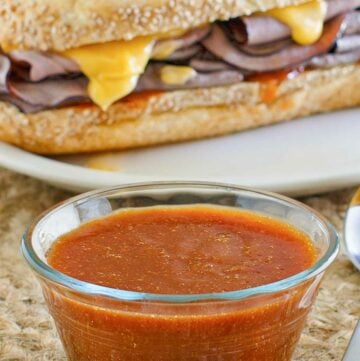 Ingredients
1/2

cup

ketchup

2

tablespoon

brown sugar

1/4

cup

white vinegar

3/4

teaspoon

onion powder

3/4

teaspoon

garlic powder

1/2

teaspoon

paprika

3

tablespoon

Worcestershire sauce

1/8

teaspoon

salt

1/8

teaspoon

cayenne pepper

1

tablespoon

cornstarch
Instructions
Place all the ingredients except the cornstarch into a

blender

with 1 cup of water and blend on high speed for 15 to 20 seconds.

Pour the mixture into a small saucepan over medium-low heat. Simmer gently for 20 minutes, stirring several times.

Mix the cornstarch with 2 tablespoons of water. Add the cornstarch slurry to the sauce and mix well.

When sauce begins to thicken, let it simmer on a very low temperature for 10 minutes. Remove from the heat and let cool. The sauce should be similar in thickness to steak sauce.

Store in a covered container in the refrigerator and serve with hamburgers, pastrami, or hot wings.
Nutrition
Calories:
32
kcal
|
Carbohydrates:
7
g
|
Protein:
0
g
|
Fat:
0
g
|
Saturated Fat:
0
g
|
Cholesterol:
0
mg
|
Sodium:
190
mg
|
Potassium:
78
mg
|
Fiber:
0
g
|
Sugar:
5
g
|
Vitamin A:
120
IU
|
Vitamin C:
1.2
mg
|
Calcium:
9
mg
|
Iron:
0.3
mg