Starbucks Salted Caramel Latte is a creamy coffee drink with sweet caramel and a touch of sea salt. Save money and make this delicious espresso drink at home.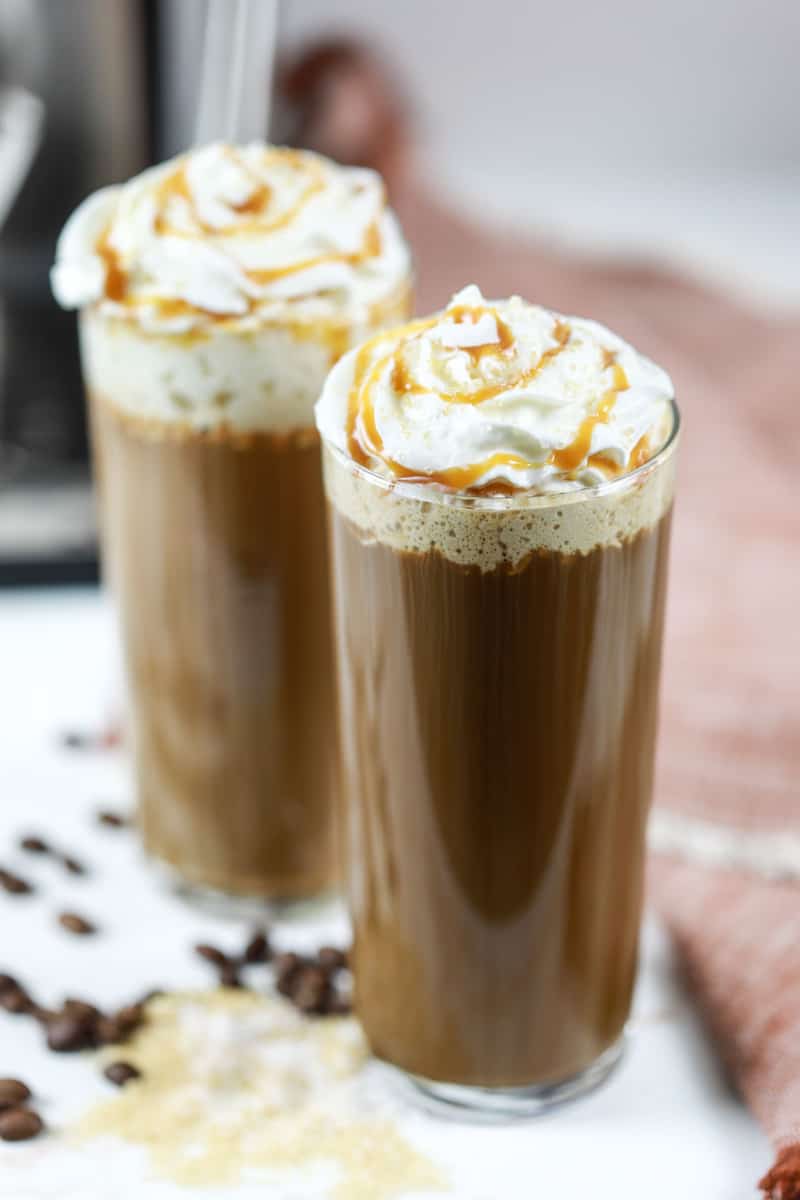 This post contains affiliate links. As an Amazon Associate, I earn from qualifying purchases.
What Does a Salted Caramel Latte Taste Like?
Lusciously creamy and sweet with a hint of saltiness and the kick of coffee, the salted caramel coffee Starbucks serves is hard to resist. If you count yourself among the many salted caramel fans, this may become your new favorite recipe.
Why Is This the Copycat Recipe for Starbucks Caramel Latte Recipe You Must Try?
With specialty coffee drinks costing more than five bucks a cup, Starbucks can be a costly habit. But if you can't get through the day without a fancy coffee drink, what else can you do? Well, you can learn how to make this remarkably similar copycat Salted Caramel Latte at home for a fraction of the price.
Salted Caramel Latte Ingredients
To make this salted caramel latte recipe, you'll need:
Espresso
Milk
Caramel Coffee Syrup
Turbinado Sugar
Sea Salt
Whipped Cream (optional)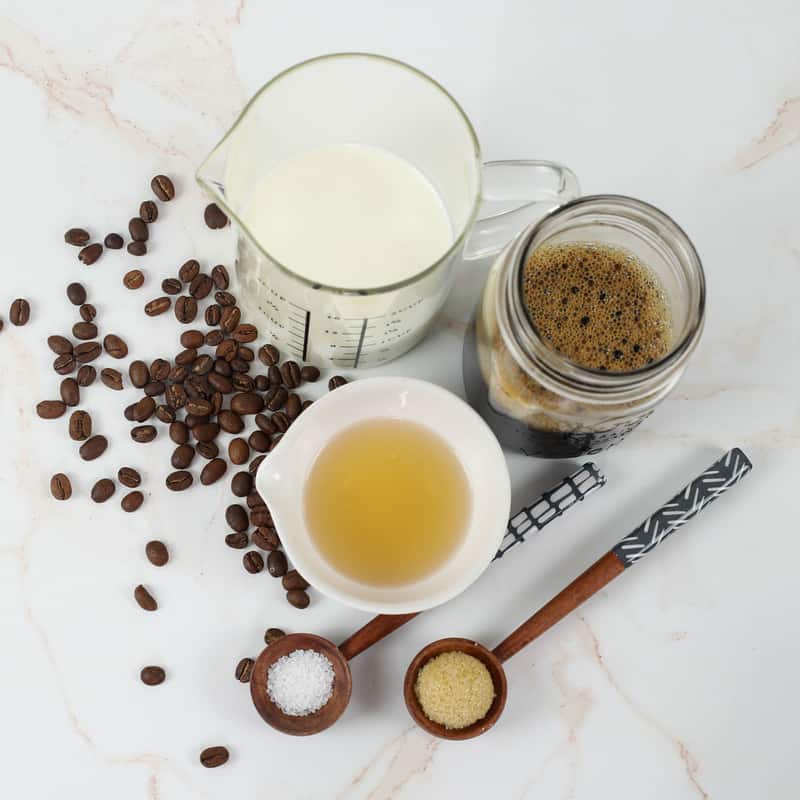 Ingredient Notes
You can still make a salted caramel coffee Starbucks style without an espresso machine. Try making stronger coffee using your usual brewing method by increasing the ratio of coffee to water. Alternatively, you can buy instant espresso powder.
To make this drink, use caramel syrup made for flavoring coffee and not caramel sauce. Although stores sell salted caramel syrup, choose the regular version for this Salted Caramel Latte recipe.
Turbinado sugar is slightly less refined than white sugar, and it retains a small amount of molasses flavor, which enhances the caramel flavor of this drink. Sugar in the Raw is a popular brand of turbinado sugar, but if you don't have any on hand, don't worry. Using ordinary sugar won't change the flavor of the drink.
How to Make Salted Caramel Latte like Starbucks
To make this drink at home:
Place sugar and sea salt in a small bowl. Stir until well combined.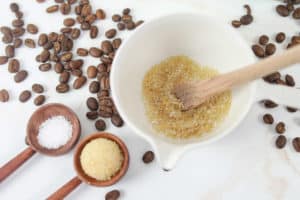 Pour two freshly brewed espresso shots or an equal amount of extra strong coffee into a mug or latte glass.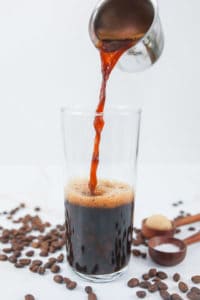 Add an ounce or two tablespoons of caramel syrup. Feel free to add more or less syrup based on your taste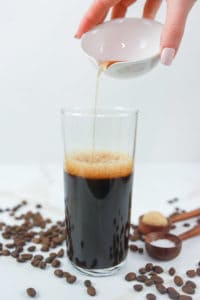 Pour in hot, frothed milk. If you don't have an espresso machine or hand frother, try heating the milk in a pan and whisking vigorously.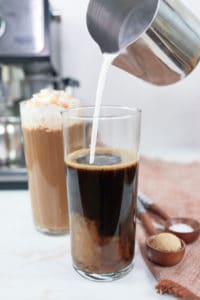 Top the latte with whipped cream.
Drizzle caramel sauce on the whipped cream if desired.
Sprinkle the sugar-salt mixture on top.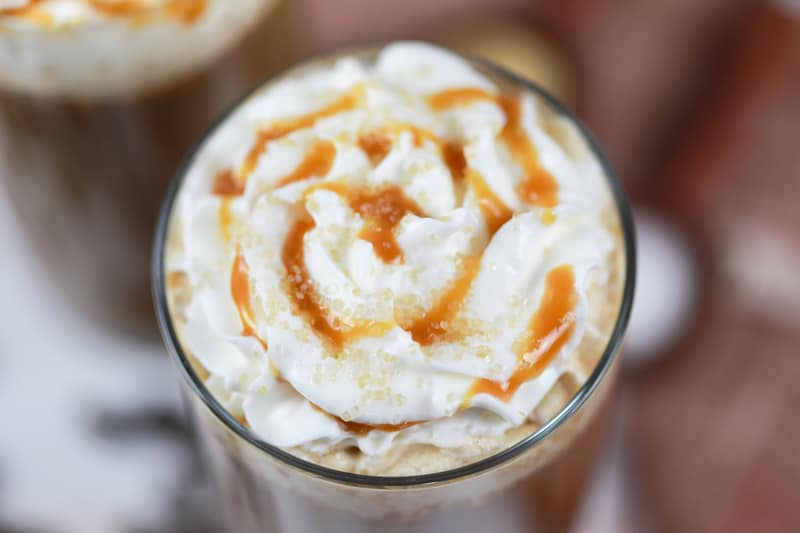 How Do You Serve a Salted Caramel Latte
If you want, you can drizzle a bit of caramel sauce over the top of the whipped cream like the salted caramel drink Starbucks serves.
Go ahead and get a bit fancy by mixing a quality finishing salt like FALKSALT Organic Natural Sea Salt Flakes in place of ordinary sea salt with the sugar before sprinkling the sugar/salt mixture over the drink.
What Goes With a Salted Caramel Latte
Once you know how to make a Salted Caramel Latte Starbucks drink at home, you'll need something equally as delicious to serve with it. Here are a few suggestions:
Fresh fruit. A Salted Caramel Latte is pretty sweet, so a slightly tart fruit snack goes wonderfully with it. Make a few fruit skewers or go completely overboard with a Strawberry Romanoff.
Prosciutto. Believe it or not, Italian prosciutto is an ideal pairing with caramel-laced coffee. Serve the prosciutto on a crostini with a little olive oil and fresh pepper.
Cheese Blintzes. These rolled crepes filled with a mildly sweet cheesy mixture are perfect for serving alongside your favorite coffee drink. Enjoy Cheese Blintzes as a hearty breakfast or a lighter dessert.
Iced Salted Caramel Latte
When the thermometer rises, cool down with Iced Salted Caramel Latte. It's even easier to make than the hot version. Here's how to make an iced salted caramel latte:
Brew the espresso and place it in the fridge to chill. Alternatively, you can prepare extra-strong cold brew coffee.
Pour the espresso or cold brew coffee into a glass filled with ice.
Stir in an ounce, a little less than two tablespoons of caramel syrup. You can modify the amount of caramel syrup you use to suit your preference.
Fill the glass with cold milk.
Top with whipped cream and add a sprinkling of sea salt and sugar.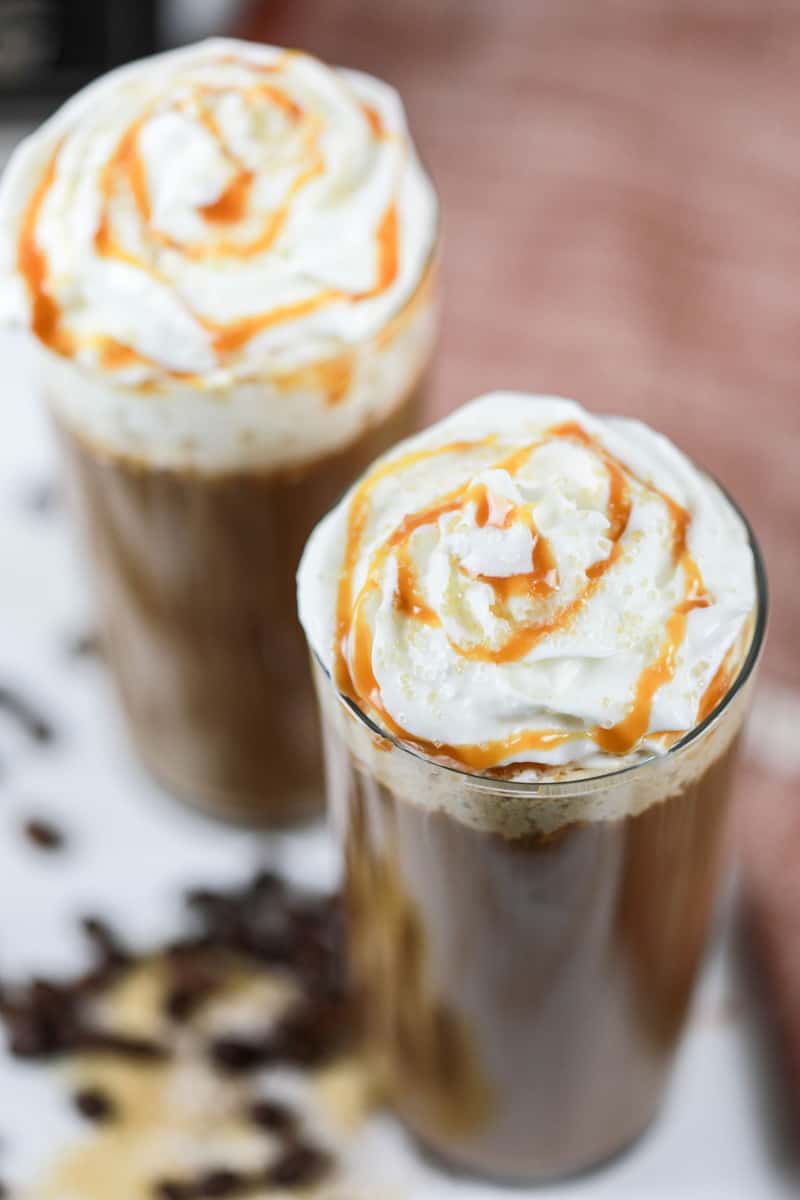 Popular Starbucks Drinks Recipes
Favorite Fast Food Drink Recipes
Check out more of my easy drink recipes and the best Starbucks recipes here on CopyKat!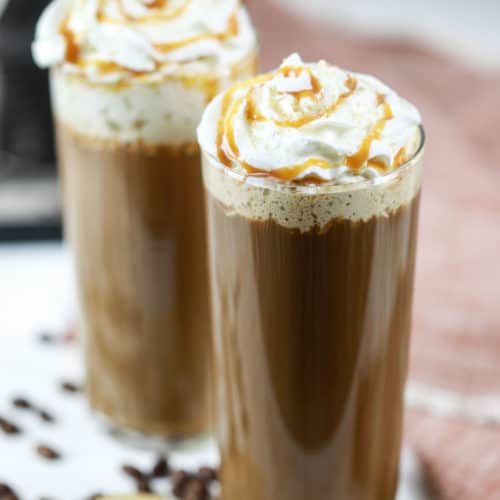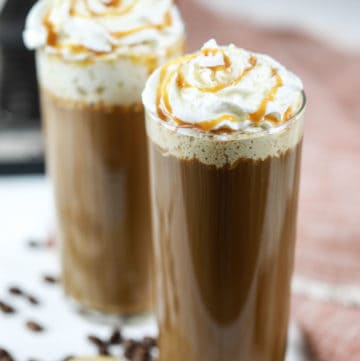 Ingredients
Topping
1

teaspoon

turbinado sugar

¼

teaspoon

sea salt flakes

like Maldon
Latte
4

ounces

espresso or strong brewed coffee

2½

tablespoons

caramel syrup

divided use

4

ounces

milk

warmed and frothed

2

tablespoons

whipped cream
Instructions
Topping
Place sugar and sea salt in a small bowl. Stir until well combined.
Latte
Pour espresso or strong brewed coffee into a coffee cup.

Add caramel syrup. You can adjust according to your own personal desired sweet level.

Add warm, frothed milk.

Spoon whipped cream or frothed milk foam on top of the latte.

Drizzle additional caramel syrup on top of the whipped cream.

Sprinkle the sugar-salt topping over the whipped cream and caramel.
Nutrition
Calories:
244
kcal
|
Carbohydrates:
45
g
|
Protein:
5
g
|
Fat:
6
g
|
Saturated Fat:
4
g
|
Polyunsaturated Fat:
1
g
|
Monounsaturated Fat:
2
g
|
Cholesterol:
19
mg
|
Sodium:
821
mg
|
Potassium:
337
mg
|
Fiber:
1
g
|
Sugar:
10
g
|
Vitamin A:
290
IU
|
Vitamin C:
1
mg
|
Calcium:
167
mg
|
Iron:
1
mg