Enjoy a delicious bowl of Full Moon Cafe Chicken Tortilla Soup on a cold day. It's creamy, cheesy, and flavored with jalapenos and Rotel tomatoes. You can make this delicious soup at home with this easy copycat recipe.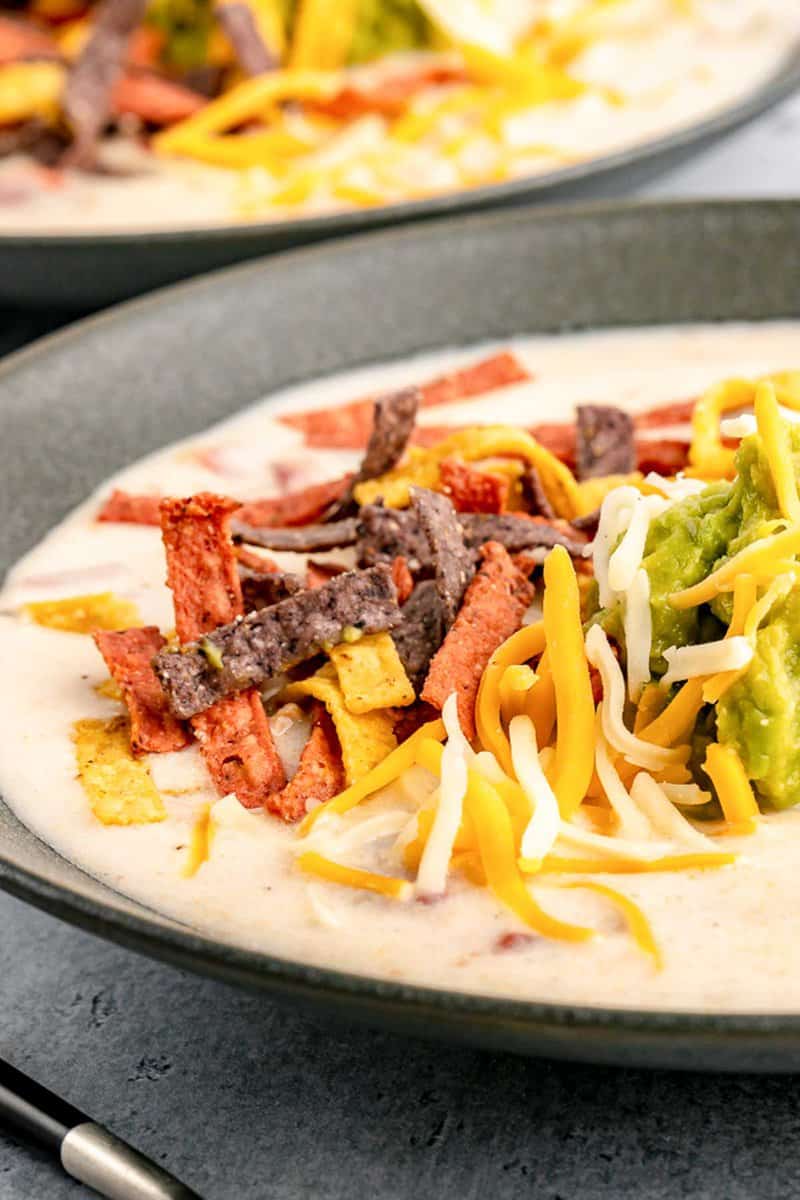 This post contains affiliate links. As an Amazon Associate, I earn from qualifying purchases.
Creamy Chicken Tortilla Soup
If you are not familiar with tortilla soup, you are missing out on something quite delicious. Conversely, if you already know about the much-loved tortilla soup, don't miss out on this wonderful spicy and creamy white chicken tortilla soup, a copycat soup recipe from the Full Moon Café. Now you can make this yummy soup just like they do.
The Full Moon Café is a popular eatery in Tulsa, Oklahoma.
What Is Tortilla Soup?
Tortilla soup is a Mexican-inspired soup with a chicken and/or tomato base. It usually has ingredients such as corn and beans and additions like jalapenos and cilantro. The soup is topped with crispy tortilla strips and a variety of garnishes.
If you're looking for a delicious, hearty, and filling soup to satisfy your Mexican food craving, then look no further. This creamy chicken tortilla soup is the perfect comfort food that will give you a warm spicy boost and keep you full and happy.
What Makes This Creamy Chicken Tortilla Soup So Good?
This white chicken tortilla soup recipe is bursting with flavor. You might want to copy the Full Moon Café and first marinate your chicken in fajita seasoning to give it that special spice in your soup.
The finishing touch of tortilla strips provides a nice crunch.
Why You Should Try This Recipe for White Chicken Tortilla Soup
This is one of the best soups to serve on a cold winter day. Chicken tortilla soup with Rotel is hearty, comforting, and filling. It's everything a cold-season soup should be.
Everyone will be filling up on this soup by the bowlful. So be ready to make this tasty tortilla soup recipe many times. You will definitely want to give this creamy tortilla soup a permanent place in your soup recipe box.
Chicken Tortilla Soup Recipe Ingredients
Cooked chicken
Chicken stock
Rotel tomatoes with chilies
Butter
Half and half
All-purpose flour
Monterey Jack and Cheddar cheese
White pepper
Jalapenos
Tortilla strips
Your favorite garnish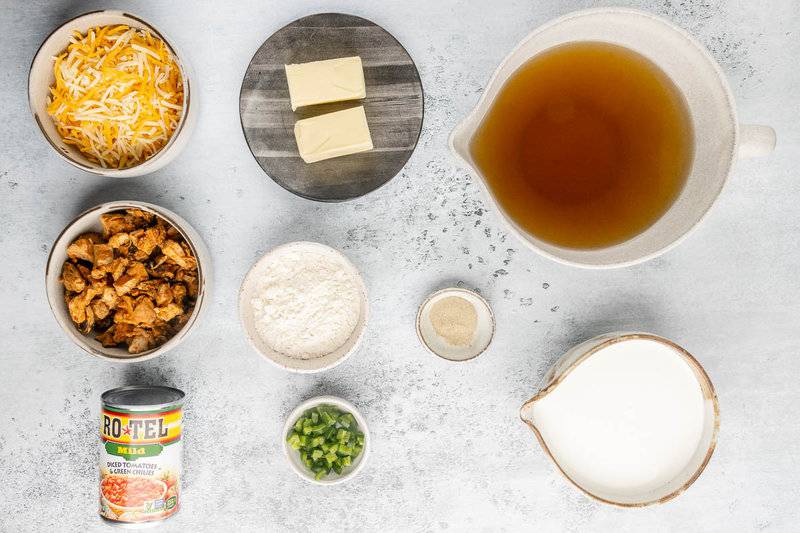 How to Make Chicken Tortilla Soup
This really is such an easy recipe for white chicken tortilla soup. Here are the steps:
Make a roux with the butter and flour.
Bring chicken stock and white pepper to a boil.
Stir the roux into the chicken stock.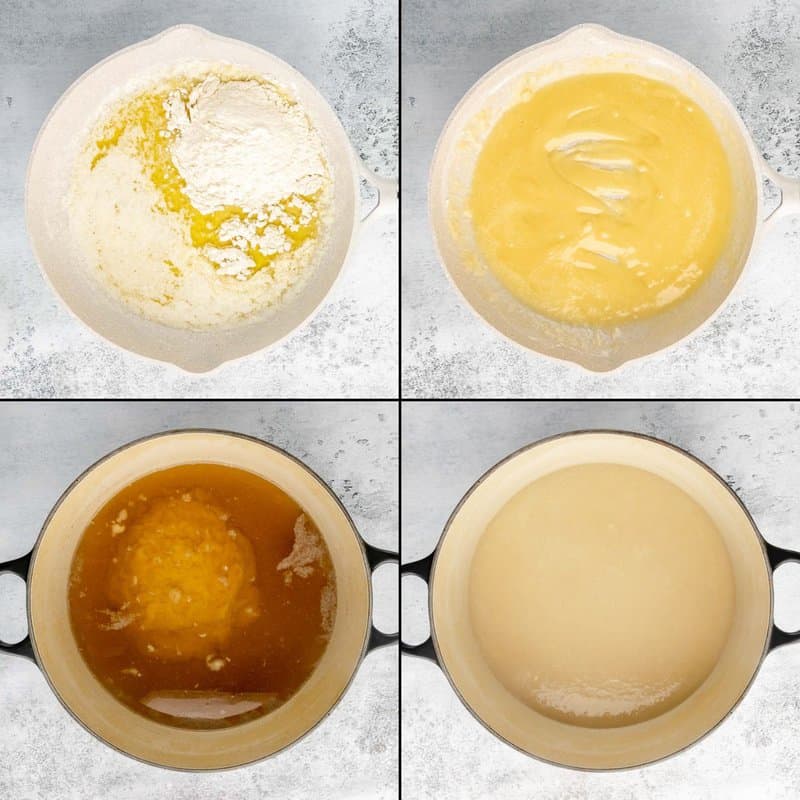 Add the cheese and stir until melted.
Add the remaining ingredients and cook until heated through.
Ladle the soup into bowls and garnish with your favorite toppings.
Serve and garnish with your favorite toppings and deep-fried tortilla strips.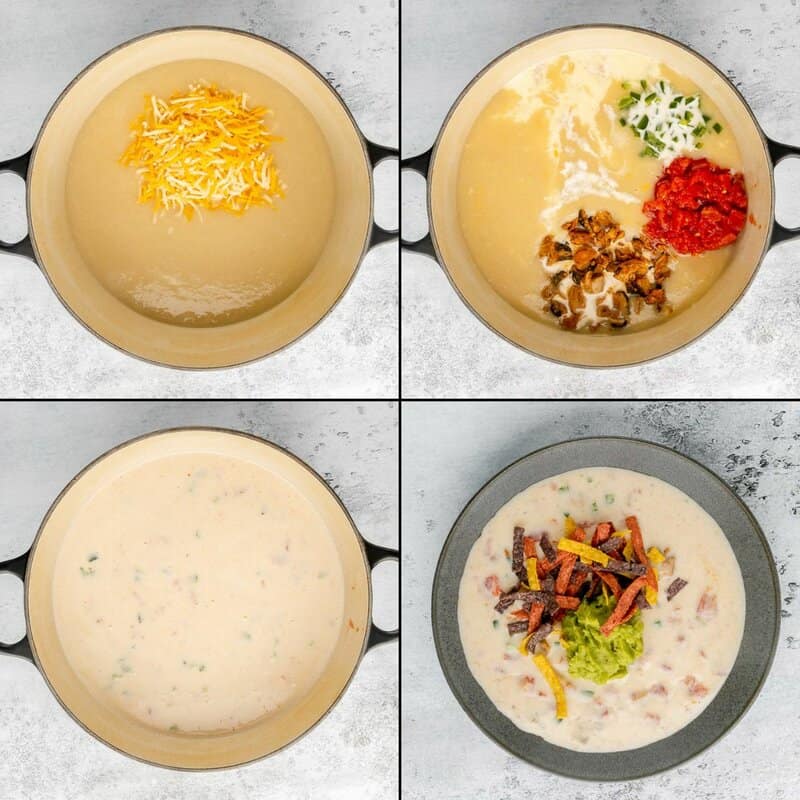 Recipe Tips
Remove the jalapeno seeds to make the jalapenos less hot.
The cheeses will melt much creamier and smoother if you add them at or near room temperature.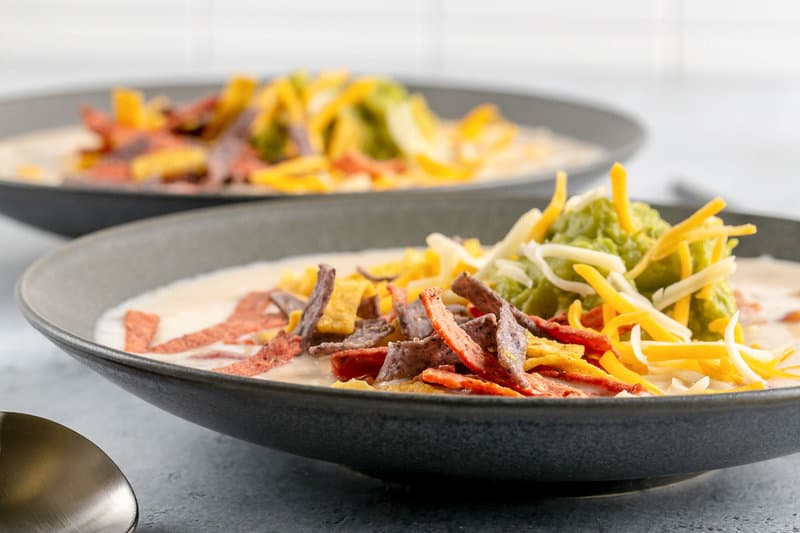 Recipe Variations
This recipe is for chicken tortilla soup with no beans. However, if you would like to have some beans in your soup, feel free to add them. Here are some more ideas:
Add a can of corn for more texture. Drain the corn before adding it to the soup.
You can opt to serve the jalapenos on the side if you have family members who can't handle their spice.
This tortilla soup recipe is made with chicken, but you could also make it with lamb, beef, or fish.
Easy Fajita Seasoning Marinade
Full Moon marinates their chicken in fajita seasonings.
Mix together equal parts of prepared fajita seasoning (such as McCormick) with olive oil or water (or a combination), depending on how wet you would like your marinade to be.
Add your chicken and let sit for a minimum of 30 minutes (or up to a few hours or overnight if you have the time).
Make Your Own Crispy Tortilla Strips
Make the tortilla strips a few days in advance. Once they're crisp, salt them and save them for later.
Frying: Over medium-high heat, preheat a pan containing 1/4 cup oil. Take 8 six-inch corn tortillas and cut them into thin strips. Fry in two batches, adding more oil if needed. Remove the fried strips from the pan and allow them to drain on paper towels.
Baking: Toss tortilla strips with 2 tablespoons of oil until thoroughly coated. Bake in a single layer on a cookie sheet for 15 minutes at 350˚F.
What to Serve With Chicken Tortilla Soup
Use your favorite garnishes – avocado, cheese, green onions, sour cream, sliced black olives, lime wedges, and cilantro. Set up a little topping bar so everyone can add what they love.
This simple chicken tortilla soup pairs well with some crusty bread and/or a green side salad. A bright and tangy red cabbage slaw will complement the rich flavors of your chicken tortilla soup. Cheesy quesadillas on the side also work well.
Here are a few other side dishes to also consider:
Don't forget your homemade margarita or a refreshing glass of sweet iced tea.
How to Store Leftover Chicken Tortilla Soup
Refrigerator: Store your leftover tortilla soup without toppings in an airtight container in the fridge. It will stay fresh for 3 to 4 days.
Freezer: Freeze the soup without the tortilla strips and garnishes in an airtight container for up to 2 months. This soup freezes well so you can make large batches at one time. Thaw it in the fridge overnight.
Reheat: When you are ready to eat the soup, reheat it on the stovetop or in the microwave.
Extra tortilla strips will keep in an airtight container at room temperature for up to 5 days.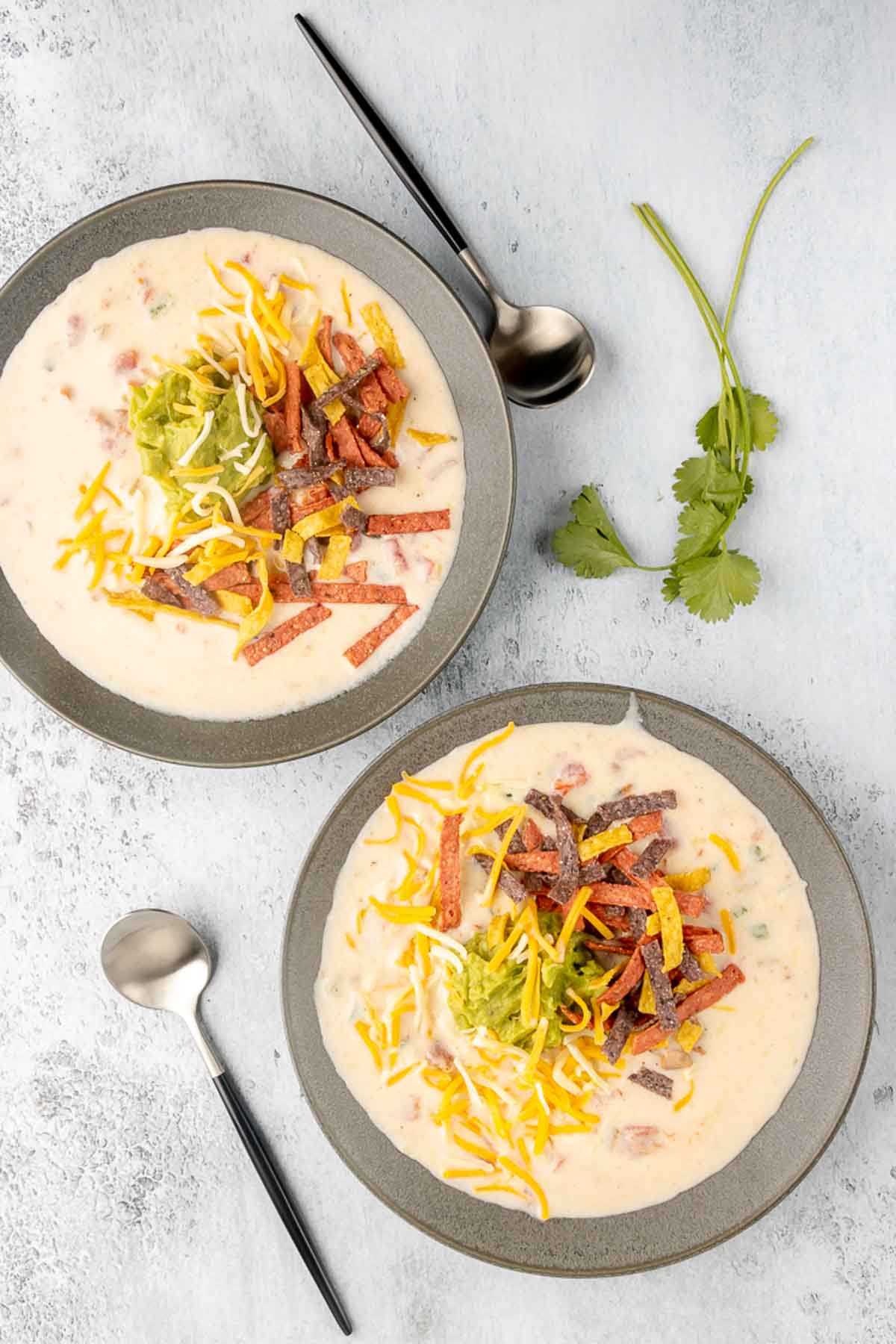 Favorite Soup Recipes
Popular Recipes with Tortillas
Check out more of my easy soup recipes and the best copycat restaurant dishes on CopyKat!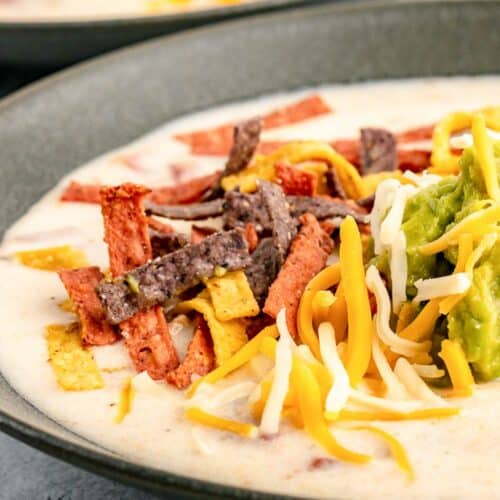 Ingredients
1 1/2

quarts

chicken stock

1/2

teaspoon

white pepper

1/2

cup

butter

1/2

cup

flour

1

cup

shredded Monterey Jack and cheddar cheese blend

1

pint

half and half

2

teaspoons

diced jalapeños

1

10-ounce can

Rotel Diced Tomatoes & Green Chilies

1

cup

cooked diced chicken (Full Moon Cafe marinates chicken in fajita seasonings)

guacamole

to serve

shredded cheese blend

to serve

deep-fried flour tortilla strips

to serve
Instructions
In a large stock pot, bring the chicken stock and white pepper to a boil.

Melt the butter in a small pan over medium heat. Add the flour and stir to create a roux. Cook over low heat, stirring constantly, until the mixture is smooth and thickened. Add the roux to the chicken stock and stir.

Add the cheese to the stock and stir until melted. Then add the half and half, jalapeños, Rotel, and chicken, and cook until heated through.

Serve each bowl with a dollop of guacamole, shredded cheese, and deep-fried flour tortilla strips.
Nutrition
Calories:
239
kcal
|
Carbohydrates:
12
g
|
Protein:
9
g
|
Fat:
17
g
|
Saturated Fat:
10
g
|
Cholesterol:
50
mg
|
Sodium:
412
mg
|
Potassium:
289
mg
|
Fiber:
0
g
|
Sugar:
3
g
|
Vitamin A:
495
IU
|
Vitamin C:
3
mg
|
Calcium:
126
mg
|
Iron:
0.9
mg