Roast beef and Yorkshire pudding are just made for each other. It's easy to make this popover-like bread that captures the deliciousness of a beef roast in a side dish. Yorkshire pudding uses so few ingredients and tastes so good. Once you make one of these, it will be a regular addition every time you make roast beef.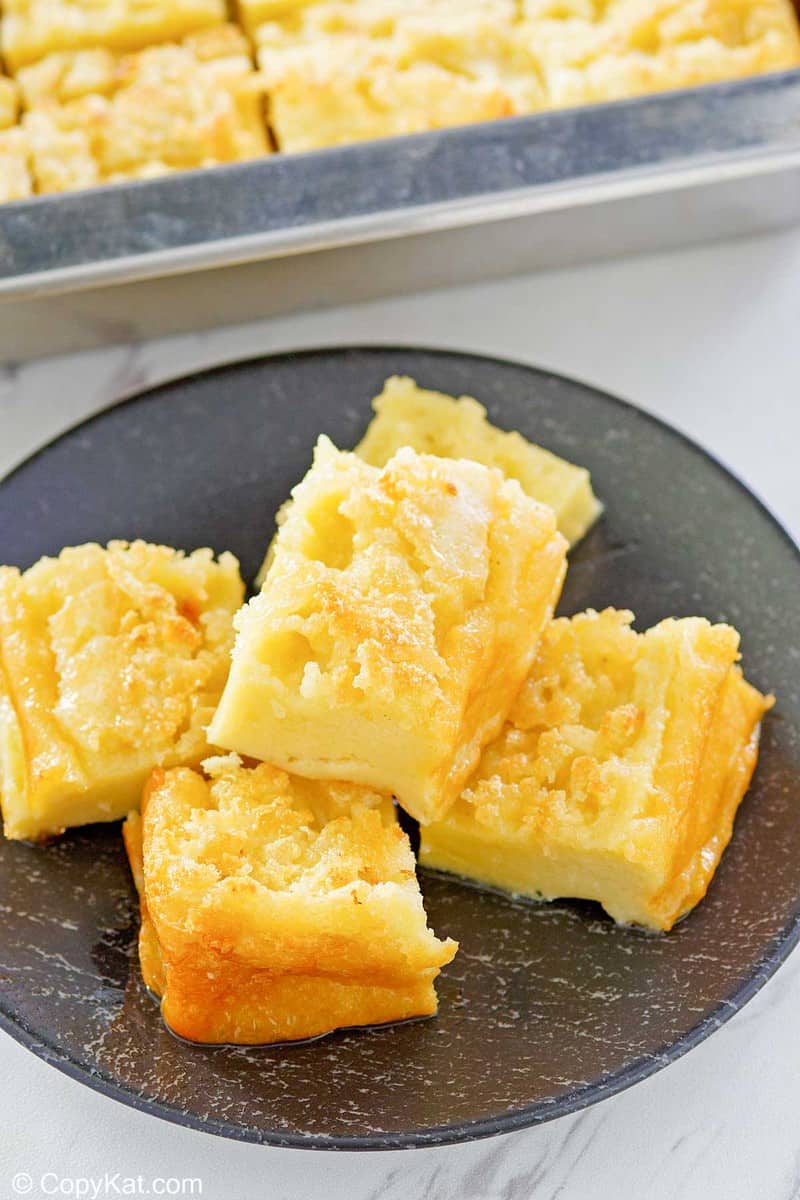 This post contains affiliate links. As an Amazon Associate, I earn from qualifying purchases.
Easy Yorkshire Pudding
This is the perfect dish to go along with roast beef. Your roast will smell heavenly while cooking, and your taste buds will be looking forward to eating it with a golden brown Yorkshire pudding.
Humble ingredients come together for a pudding that makes a roast beef dinner extra special!
What is Yorkshire Pudding and Where Did It Come From?
Yorkshire pudding is made by pouring an eggy batter over beef drippings. The batter then puffs up dramatically!
Yorkshire pudding dates back to an earlier time when an English inn or pub would roast a hunk of meat suspended from a hook above an open fire. The "pudding" emerged from a pan full of runny batter placed beneath the meat to soak up the juices.
Originally the roast was usually mutton; these days, it's more likely to be beef.
What is the Difference Between Yorkshire Pudding and Popovers?
Popovers and Yorkshire pudding both involve a high-moisture dough and rely on the power of steam to puff and rise into their light, crisp final forms.
It's only Yorkshire pudding when beef drippings are used. When making popovers, butter is usually used to grease the pan.
Why This is the Best Recipe for Yorkshire Pudding
This recipe gives you more munch and less grease than some others and a perfectly beautiful texture. The secret to this unmatchable Yorkshire pudding recipe is preparing the batter in advance and allowing it to rest (see notes below).
The result is a Yorkshire pudding that rises up tall with a crisp shell and is slightly chewy.
Recipe Ingredients
The secret to a delicious Yorkshire pudding is a very hot oven, smoking hot fat, and the right mixture of eggs, milk, and flour. The end result is crispy, light, and delicious. You only need a few ingredients:
Roast beef drippings
All-purpose flour
Large eggs – this recipe was tested using large eggs
Salt – you can use table salt or kosher salt
Milk – I recommend whole milk, it has a higher fat content and the result is better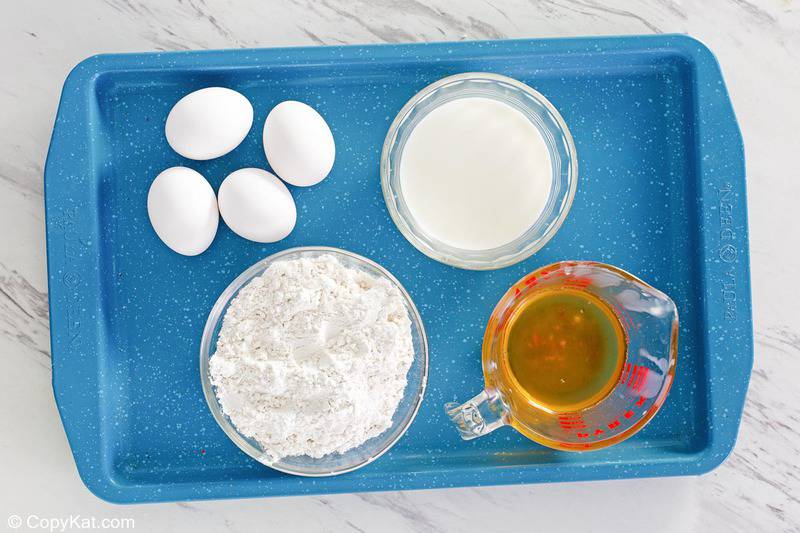 Ingredient Substitutions
If someone in your family has a dairy allergy, substitute rice milk for regular milk. You won't be able to tell the difference.
Making vegan Yorkshire pudding means replacing the flour, eggs, and milk, but apparently, it is possible. Find out how to make vegan Yorkshire pudding.
Substitute some of the grease from your morning bacon for the beef drippings. You get a smoky, salty Yorkshire pudding.
How to Make Yorkshire Pudding
Pour the beef drippings into an oven-safe pan or a cast iron skillet.
Place the pan into a 450°F oven and allow it to get very hot.
Place the remaining ingredients in a medium bowl.
Use a mixer or a whisk to mix them until the batter is smooth.
Pour the batter into the hot pan.
Bake at 450°F for about 20 to 25 minutes.
Cut it into squares.
Serve immediately alongside a roast.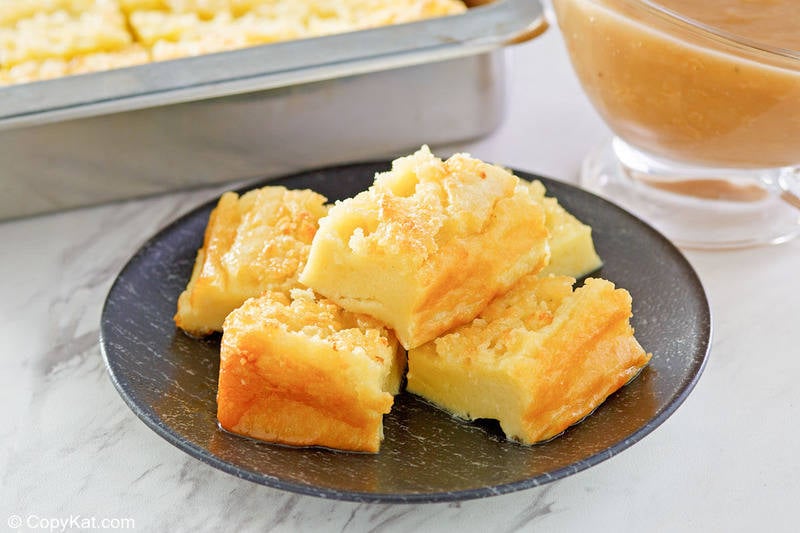 What Kind of Yorkshire Pudding Pan to Use?
The darker metal pans seem to make better Yorkshire pudding. A square 9-inch pan or 13x9x2-inch pan is great to use.
You can also choose to divide the batter up into muffin tins to make individual Yorkshire puddings.
Yorkshire Pudding Recipe Variations
Toad in the Hole: This is a classic British dish of sausages baked into a large Yorkshire pudding.
Horseradish Pudding: Add 6 tablespoons of freshly grated horseradish or 3 tablespoons of creamed horseradish to your batter.
Tips for Making the Best Yorkshire Pudding
Resting your batter (even overnight) is the single most important step when making Yorkshire pudding or popovers. You get an end product that's taller and much tastier, with a more complex, toasty flavor. It has something to do with the breakdown of proteins and starches during an overnight rest.
Some people suggest that refrigerating the batter gives Yorkshire pudding a better rise.
Another key is a hot oven and the fat smoking in the pan before putting the batter in. Your batter will get more energy from a hot pan right from the start, causing it to rise and puff while it's still relaxed and stretchable.
Also, if your pan is hot, your batter is less likely to stick, which means less resistance to rising.
As soon as your pudding comes out of the oven, poke the top with a skewer to release the steam. That will help keep the top from falling.
How to Serve Yorkshire Pudding
When serving Yorkshire pudding, the most important thing is this:
Make sure your diners are seated and ready a few minutes before your Yorkshire pudding comes out of the oven.
Yorkshire puddings are light, delicate, and they lose heat fast. Like time and tide, a Yorkshire pudding waits for no one!
You can choose to serve your pudding as a course on its own before the meat lands on the table. Serve it in the form of individual small puddings filled with onion gravy.
Think about topping Yorkshire pudding with a poached egg and some hollandaise sauce for a different breakfast.
Eat leftover Yorkshire pudding cold for dessert! Top with a scoop of ice cream and some crushed Oreos, and drizzle a little chocolate syrup over the top.
What Goes With Yorkshire Pudding?
Traditionally, roast beef and Yorkshire pudding are served together. A prime rib roast is perfect. Complete Your English dinner with these recipes:
How Long Will Yorkshire Puddings Keep?
Yorkshire puddings are best eaten straight out of the oven. However, if you have made too many, they will be fine in the fridge for a couple of days if stored in an air-tight container.
To reheat refrigerated Yorkshire pudding: simply pop them in the oven at 400ºF for a few minutes to warm through. Don't be tempted to reheat them in the microwave – they'll get soggy and chewy. Using the oven keeps them crisp.
How to Freeze Yorkshire Puddings
Once they are completely cold, place your puddings in a freezer bag (or several) and seal tightly. Give them plenty of space while they freeze so that they hold their shape.
Avoid pressing other items down on top of them once they are frozen – they will break and chip easily. They'll be good in the freezer for a couple of months or so.
To reheat frozen Yorkshire pudding: Pop them in a hot oven straight from the freezer for three or four minutes until warmed through. To avoid them coming out a little dry, you may want to spray them with a little vegetable oil first.
Favorite Bread Recipes
Now you know how to make Yorkshire pudding, here are some more bread recipes for you to try:
Popular Christmas Dinner Side Dish Recipes
Check out more of my easy bread recipes and the best Christmas dinner recipes here on CopyKat!
Ingredients
1/4

cup

beef drippings from a roast

2

cups

all-purpose flour

4

eggs

1/4

teaspoon

salt

2

cups

milk
Instructions
Preheat the oven to 450°F.

Pour the beef drippings into an oven-safe pan.

Place the pan into the oven and allow it to get very hot.

Combine the remaining ingredients in a bowl with a

mixer

.

Pour the batter into the hot pan, and bake for about 20 to 25 minutes.

Cut into squares, and serve immediately alongside a roast.
Nutrition
Calories:
331
kcal
|
Carbohydrates:
35
g
|
Protein:
10
g
|
Fat:
15
g
|
Saturated Fat:
6
g
|
Cholesterol:
126
mg
|
Sodium:
189
mg
|
Potassium:
192
mg
|
Fiber:
1
g
|
Sugar:
4
g
|
Vitamin A:
290
IU
|
Calcium:
115
mg
|
Iron:
2.4
mg