Are you looking for an easy-to-make casserole that reheats well? This layered tamale casserole filled with ground beef, cheese, and canned tomatoes is easy to make and tastes great.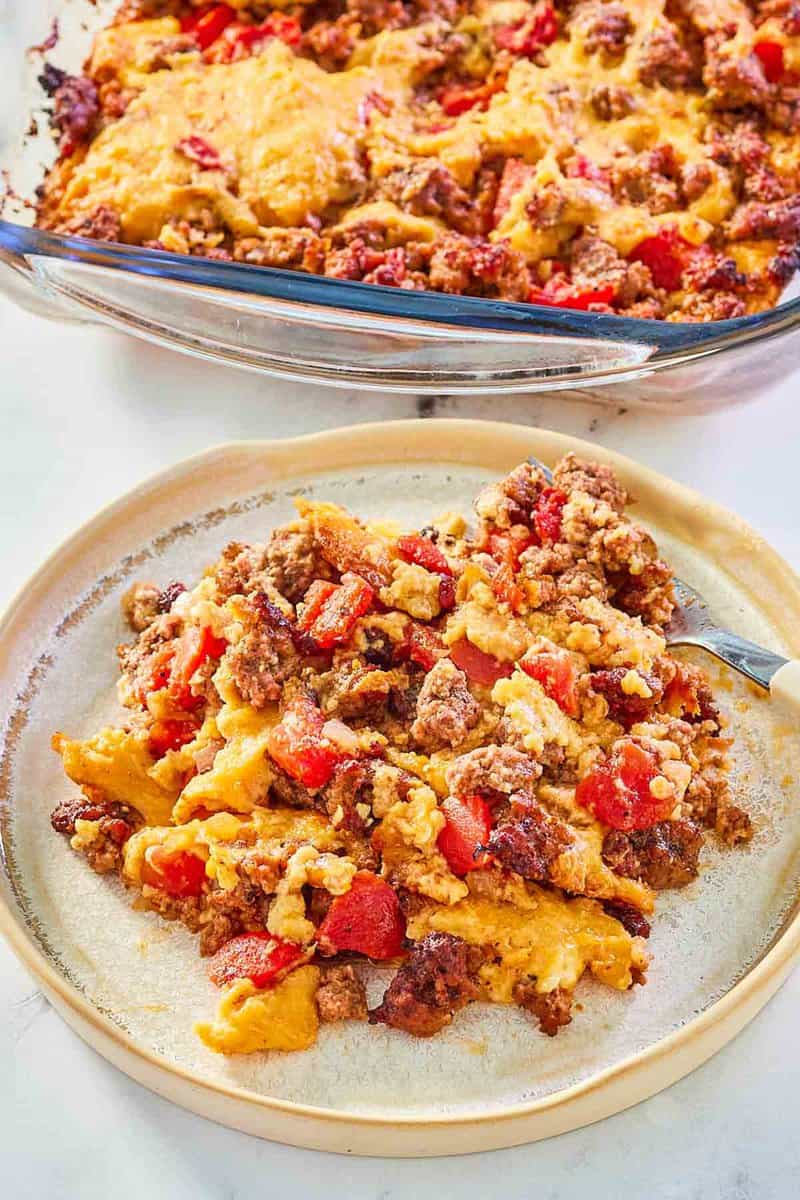 Tamale Pie Casserole
Maybe you've been put off from making tamales because they seem too complicated. Or you love tamales but just don't have the time to create them. This tamale-inspired casserole is a quick and easy answer.
We're talking comfort food to the max here: layers of cornbread and spiced ground beef baked to perfection!
What Is a Tamale?
A tamale is a Mexican dish of seasoned meat wrapped in cornmeal dough and then baked or steamed in corn husks. You then throw away the corn husks or use them as all-natural plates from which to eat the delicious tamales. Pretty cool!
Now this tamale pie casserole recipe is not in the least authentic. Rather, consider this tamale cornbread casserole inspired by the idea of Mexican tamales.
If you want to try your hand at making tamales, try this homemade tamale recipe.
Why You Should Try This Tamale Casserole Recipe
First of all, you can be assured that this tamale pie casserole is tried and true – we've been making it at my house for thirty-plus years!
Second, this easy tamale casserole is perfect for your busy work week. – it will make your dinner time more relaxing. This ground beef tamale casserole recipe gives you a quick family weeknight dinner with all the flavors of classic tamales without any of the fuss!
Third, this tamale casserole is mild enough for your kids to enjoy and spicy enough to keep the adults interested.
Beef Tamale Casserole – Ingredients You Will Need
Nothing fancy about the ingredients. Here's your shopping list:
Ground beef
Canned tomatoes
Cornmeal
Shortening
Evaporated milk
Onion
Chili powder
Salt and pepper
Monterey Jack Cheese or Cheddar Cheese (optional)
Ideally, use an 80/20 blend of ground beef. You want a little bit of fat for flavor but not so much that it makes the tamale casserole greasy.
How to Make This Layered Tamale Casserole Recipe
This is such an easy tamale pie casserole recipe. Here's basically what you do:
Combine the cornmeal, salt, and water, and gradually add the milk.
Boil, stirring, until thick.
Cook the meat and onion in a large skillet over medium heat, stirring with a wooden spoon to break up the meat while it is cooking.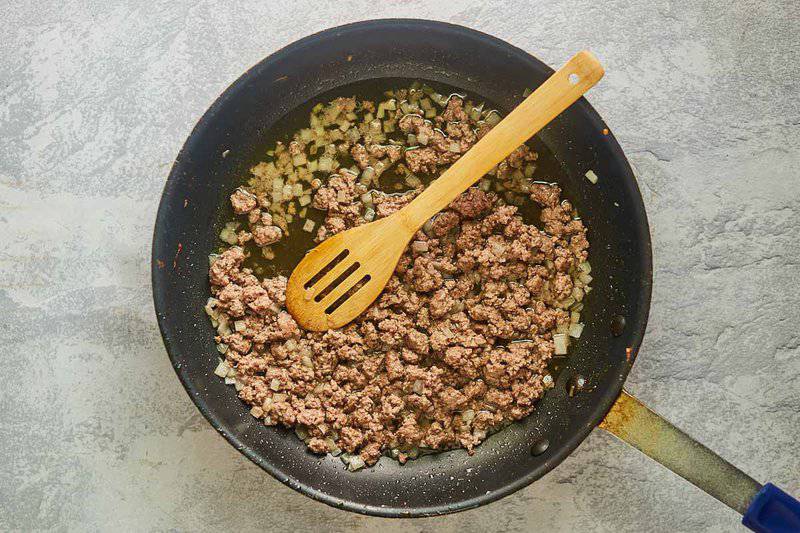 Add the tomatoes, salt, pepper, and chili powder.
Layer the casserole in a baking dish sprayed with cooking spray, with the half of cornbread mixture first.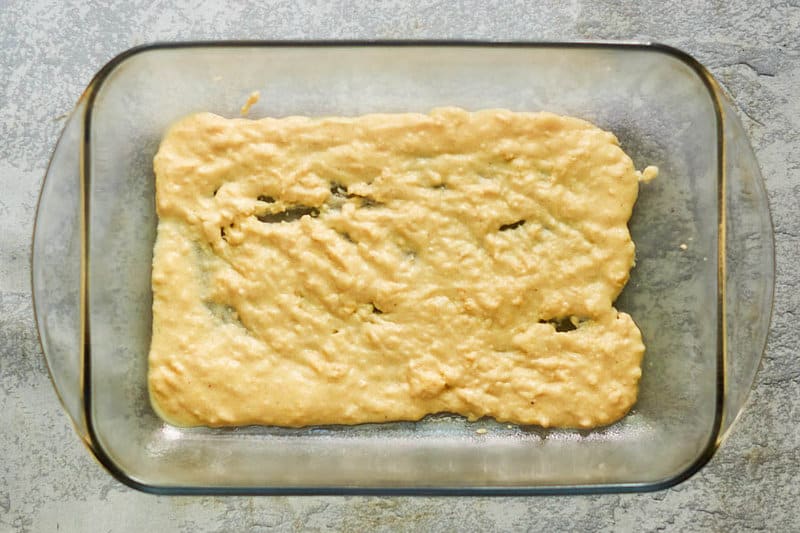 Then the meat mixture and the remaining cornmeal mixture.
Sprinkle over some cheese (optional), and bake.
Tamale Cornbread Casserole – Recipe Variations
It's easy to tweak or add things to this easy tamale casserole recipe, so don't be afraid to play around with it. Here are some ideas:
Chicken Tamale Casserole: Substitute ground chicken for the beef. You can also use the recipe to make a ground turkey casserole, pork casserole, or sausage casserole.
Spicy Mexican Casserole: Instead of chili powder, spice up your casserole with a can of tomatoes and green chiles, or use a Mexican-style cornbread mix. Another idea is to add some chopped jalapeños to the cornbread mix. Cumin and garlic also complement the meat.
Mexican Casserole With Beans: Stir in some beans of your choice – pinto, refried beans, or black beans.
Tamale Casserole With Corn: Add about ½ cup of cream-style corn to the cornmeal mixture. Reduce the milk by ¼ cup.
Cheesy Tamale Casserole: Mix cheese into the meat layer.
Toppings: After baking, top with your favorites – choose among chopped onion, avocado, tomato, sliced black olives, cilantro, and sour cream.
How to Serve This Tamale Casserole Recipe
Tamale pie casserole is a filling meal all by itself, so you don't need much to accompany it. Here are some suggestions:
Round out your meal with a big green salad.
Mexican slaw or creamed corn on the side is an excellent complement to this dish.
Provide some tortilla chips for scooping up any loose meat.
Topping Ideas:
How to Store Leftover Tamale Pie Casserole
Fridge: Leftovers can be stored in an airtight container in the refrigerator for 3 to 4 days. Reheat in the microwave with 30-second increments until hot all the way through.
Freezer: An entire unbaked Mexican casserole is perfect for freezing (up to 3 months) and saving for later. Just make sure it's tightly sealed. When needed, thaw out overnight in the fridge and bake at 375°F for approximately 35 minutes or until light brown on top.
Note: If you cook a casserole from frozen, it will take longer to cook. Be careful if you have made your casserole in a glass container. Glass casserole dishes are likely to shatter if placed in a hot oven directly from the freezer.
Favorite Mexican Recipes
Popular Casserole Recipes
Check out more of my easy casserole recipes and the best Mexican recipes on CopyKat!
This tamale casserole recipe is courtesy of Virginia McDowell, Jefferson City. Mo. 1955.
Ingredients
1/2

cup

cornmeal

1/2

teaspoon

salt

3/4

cup

water

1 1/2

cups

evaporated milk

1 1/2

tablespoons

shortening

1

pound

ground beef

1/4

cup

chopped onion

1/2

cup

canned tomatoes

1/2

teaspoon

salt

1/4

teaspoon

ground black pepper

or to taste

3/4

teaspoon

chili powder
Instructions
In a saucepan, combine the cornmeal, salt, and water. Gradually add the evaporated milk. Bring to a boil and stir until the mixture thickens. Remove from the heat, cover, and let cool.

Preheat the oven to 375°F and grease a shallow 9×13-inch baking pan.

Sauté the ground beef and onion in a skillet over medium heat until the onion softens and the beef is almost browned. Drain the excess fat.

Add the tomatoes, salt, pepper, and chili powder to the skillet. Stir and cook until the beef has finished browning.

Spread half of the cornmeal mixture in the prepared baking pan. Then add the meat mixture and top with the remaining cornmeal.

Bake for 35 minutes or until the top is golden brown.
Nutrition
Calories:
220
kcal
|
Carbohydrates:
10
g
|
Protein:
11
g
|
Fat:
14
g
|
Saturated Fat:
5
g
|
Cholesterol:
43
mg
|
Sodium:
323
mg
|
Potassium:
305
mg
|
Fiber:
1
g
|
Sugar:
4
g
|
Vitamin A:
160
IU
|
Vitamin C:
2.1
mg
|
Calcium:
112
mg
|
Iron:
1.4
mg